Winter band concert flaunts world premiere, dissonance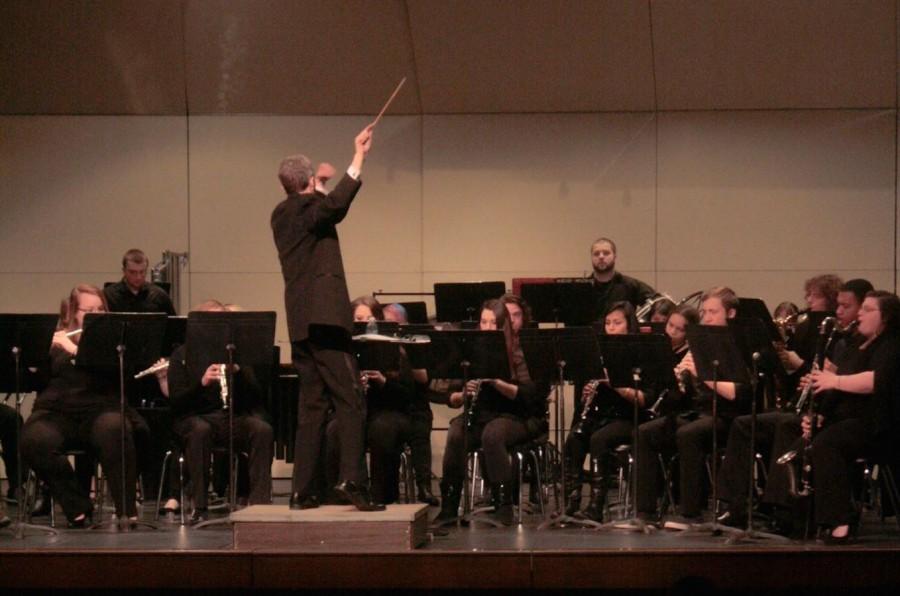 On Sunday, Feb. 7, the Lakeland College Concert Band performed their Winter Band Concert, entitled "New Kids on the Block," to a modest audience in the Bradley Theatre. True to its name, the concert focused on pieces much newer and more experimental than the usual fare, with the world premiere of an unfinished piece thrown in the mix.
The concert opened with no formal introduction, opting to head straight into James Curnow's "Fanfare and Flourishes for a Festive Occasion," the first arrangement on the schedule.
Failing to turn his microphone on, the conductor, assistant professor of instrumental music and director of bands, Christopher Werner, instead put on his "marching band voice" to introduce the next piece, John Mackey's "Sheltering Sky." Werner warned concertgoers of the upcoming piece's dissonance and assured them he was not just making excuses for potential missed notes.
The third piece had some backstory. In 2014, Werner battled esophageal cancer. Wisconsin composer Larry Daehn, a friend of Werner's, composed a song dedicated to Werner and his trials as a gift. The currently untitled song was prepared to premiere at Lakeland's Winter Band Concert on Feb. 7. However, Daehn was not satisfied with the piece at its current state and decided to edit it further. Thus, only a work in progress was premiered at the concert. The finished piece will premiere at the Spring Band Concert on April 20.
The fourth piece, "Three Nautical Motifs," was composed by Lakeland alumnus Daniel Seibel. Only two of the three titular sea-themed motifs were performed. The motif "A Mariner's Hymn: Prayer for Safe Passage" opened with an emulation of church bells. Drums faded in and out throughout the piece. Werner compared the much less intense motif "Hoist the Sails!" to the score of the Disney film series "Pirates of the Caribbean."
The show closed with Steven Bryant's "The Machine Awakes." According to Werner, the piece was composed for a middle school band to get them excited about performing music. Using an iPhone app connected to a speaker on each side of the stage, the traditionally-instrumented band played alongside sounds that Werner compared to the scores of first-person shooter video games.
Once the performance concluded, surprised audience members laughed before applauding.