Tutors aim to help students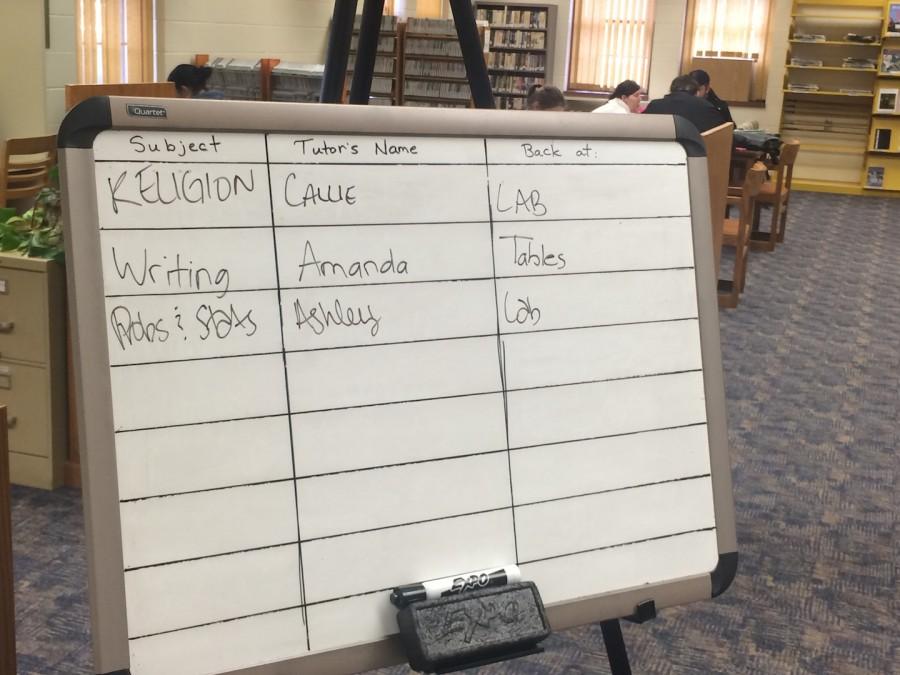 There are seven weeks left in the school year, which means that finals are quickly approaching.  
Soon, students will be busying themselves with studying for finals while packing to go home for the summer.  Although Lakeland professors would love to believe that many of their students are working hard to prepare for their last 'tough' tests and projects of the year, there are always students who procrastinate and hold off studying until the last minute.  
For the use of all students, Lakeland offers tutoring services that consist of 37 Lakeland student tutors. Students can find tutors either in the Esch Library or on the top floor of Old Main in the Academic Resource Center.
There are even some tutors who are willing to help students with their homework at the campus center, via Skype or any other video chat through social media.
About the tutoring program, the Director of the Hayssen Academic Resource Center, Tony Prestby said, "the most often seen tutor is (for) math, followed by writing tutors. Each tutor is different, so it's hard to say how many times each tutor is seen, because it's different every week.
Despite what some students may think when passing through the library and seeing tutors with no students, Prestby said, "tutors are used consistently each week and the average amount of time a student sees a tutor is (for) about 45 minutes."
Though many students would like to believe that tutors are ready and available, there are some students who complain about the availability of the tutors.
A student who would like to remain anonymous stated that, "Every time I go to the library for help with my homework, the tutors are very limited and the tutor that I need is barely there. It's rare that I see them where they say they will be there during their tutoring hours. There have been times I've gone to the library and the tutor sign in board would say 'be right back' or 'not here.' It's very stressful."
Probability and Statistics tutor Nakyra Ware stated,"most of the time, when I travel around campus to help students with their homework, it seems to be more effective than them coming to the library."
Ware added, "I'm not the only Probability and Statistics tutor, so sometimes when I'm in the library for tutoring hours, I'm doing my own homework instead," due to the amount of and scheduled times of tutors.
Tutoring is offered in nearly every major, not including art, hospitality management and music.  Professors highly encourage their students to see a tutor for any courses with which they are struggling, so that they can get through their classes with passing grades and a better understanding of the material.
For more information about tutoring services, contact Tony Prestby, the director of the Hayssen Academic Resource Center.