Lehto to leave Lakeland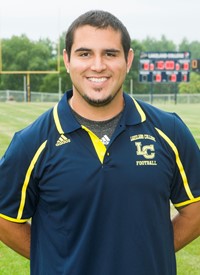 One of the most familiar faces around campus will be leaving Lakeland College at the end of this school year.  Assistant Football Coach and Graduate Hall Director Joey Lehto will complete his Master of Arts in Counseling and will partake in Lakeland's graduation ceremony on May 1.
A favorite among the student body, Lehto leaves Lakeland after seven years of dedication as an undergraduate student, a graduate student, a hall director and a football coach. Lehto joins Whitney Diedrich as the two most recent alums to depart from their alma mater.  
"Lakeland College has given me every opportunity to be successful. Lakeland's Athletics and Residence Life departments supported my every move, along with the many other staff and faculty members who went out of their way to make my experience special. I cannot thank [them] enough," said Lehto.
Lehto's importance to the student body was most recently displayed when a student-organized petition was passed around and over 400 signatures were collected in effort to make Lehto a full time employee at Lakeland.
"It was amazing to see the support from the students, but I don't think many students knew I was a GA or understand how the GA role works. The majority of Graduate Assistants finish their degree and move on to another place. I leave happy though, knowing that I impacted a number of students in a positive way," said Lehto.
During Coach Lehto's three years as an assistant coach, the Lakeland football team held a record of 21-10 and won two conference championships. He also coached four All-Conference linebackers and was part of one of the top defenses in the country in 2014.
Lehto, who currently resides in Muehlmeier Hall, the all-male residence hall comprised of first year students, has accepted a new position at St. Norbert College, where he will continue his residence life and football duties.  

Hang on for a minute...we're trying to find some more stories you might like.