Diedrich to leave Lakeland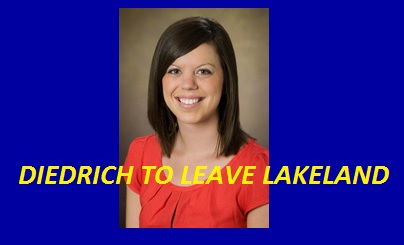 In an email sent out by Student Success and Engagement Coach Whitney Diedrich on Friday, April 1, she announced that she has "accepted an incredible new opportunity at another institution" and that her "last day at Lakeland will be" on Friday, April 15.
Not naming the institution at which she has accepted the new position, Diedrich did say that she is "very excited about continuing my own development in my profession," in her email.
Diedrich also said, "As excited as I am, it does not change the fact that I will certainly miss Lakeland College (my alma mater) and all of you fantastic students that I have had the pleasure of working with and getting to know."
Though she is leaving Lakeland in two weeks, she still expects to work with students during this time and reminded students, "If you haven't signed up for your classes yet, please do so as soon as possible!"
In a note to the graduating seniors, Diedrich said, "you best believe that I will be back on Lakeland's campus to watch you all cross that stage on [graduation day]."
If students have questions or concerns for Diedrich or regarding her departure, they can contact her directly by stopping by her office, contacting her at [email protected], or by speaking with another member of the Student Success and Engagement Team.

Hang on for a minute...we're trying to find some more stories you might like.