The search is over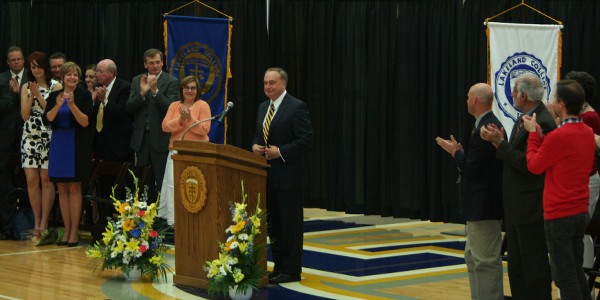 Lakeland has a new president.
His name is Dr. Michael A. Grandillo, and he was introduced as the 15th president of Lakeland Tuesday in front of packed bleachers in the Moose and Dona Woltzen Gymnasium. He will replace Dr. Stephen Gould, Lakeland's president since 1998 who has served at the college as a teacher and administrator for the last 42 years and will retire in May.
"We're excited and honored to be here," Grandillo said, speaking for himself and his family. "It's an outstanding place. It's a place that changes people's lives through education. We have a lot of opportunity to impact the world and the people around us, so we're going to take advantage of that."
Grandillo comes to Lakeland from Tiffin University in Tiffin, Ohio, where he has been the Vice President for Development and Public Affairs since 1995. He came there from Heidelberg College, also in Tiffin, where he was Director of Development from 1986-1995 and Associate Dean of Admissions from 1981-1986. He came there from Ohio Northern University in Ada, Ohio, where he was an Admissions Counselor from 1979-1981. He also held numerous leadership positions in the community, such as Tiffin City Councilman for 15 years.
According to a press release on the Lakeland web site, at Tiffin University, Grandillo led the funding and development of Tiffin's campus, including the completion of real estate acquisitions that added 110 acres and the construction of eleven new buildings, a nature preserve, an athletic complex, a retirement village and the expansion of three existing buildings. There, and at Heidelberg College as Director of Development, he led five successful capital campaigns, including the largest campaigns in the history of both institutions, and tripled both institutions' endowments. As Associate Dean of Admissions at Heidelberg, he was part of a team that doubled the college's enrollment.
Although what Grandillo has done and accomplished is important, the Presidential Search Committee (PSC) chose him because his values match those espoused in Lakeland's mission statement, according to PSC Chair Jeff Ottum.
"Dr. Grandillo believes in a mission of service," Ottum said. "A large part of what Lakeland is all about is how we serve – how we serve society, how we serve each other, how we serve our students. He has exemplified a life of service, not only in his jobs, which are full of those kinds of things as well, but also in what he's done."
Ottum said the PSC "interjected a step" into the campus visit part of the search process this year that allowed them to better understand candidates' values. The PSC brought each of the three final candidates to campus – but did not formally interview them there. Instead, the PSC gave them tours of Lakeland and Sheboygan County, had them talk with Lakeland stakeholders, talked with them over meals – in short, spent what Ottum called "quality time" with them.
"It's amazing how you get to know somebody so much better in that kind of environment than you do sitting around a table at an airport firing questions at each other other for an hour and a half, which is very formal, stilted," Ottum said. "It's not natural. We said, 'Let's get them in a natural setting.'"
Ottum said after each of the three candidates visited campus, the PSC only asked Grandillo to visit again to meet more stakeholders.
"We just knew," he said. "We just knew."