Professor Herrick makes a rapid recovery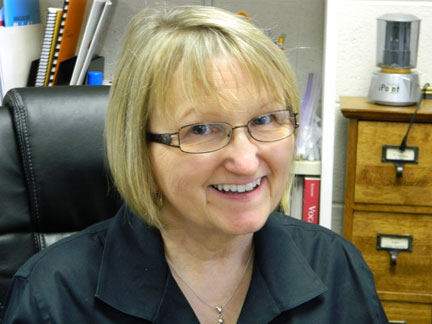 Janet Herrick, Professor of Music and Director of Choral Activities at Lakeland College, was performing in a routine concert for the Sheboygan Symphony Orchestra. But as she moved her bow across her double bass to produce a sweet deep sound, Herrick suddenly felt strange. She had an odd feeling and some pain in her chest. She took a deep breath, told herself it was just indigestion, and finished the concert.
That was back in 1999, and it wasn't a simple case of indigestion. Professor Janet Herrick had experienced a heart attack.
"Women's signs of heart attack can be very different from men's," Herrick said. "I thought it was just indigestion, so I finished the concert."
A piece of her heart's septum, which is a thin wall of tissue, was growing in right under her aortic valve, thus impeding the blood flow from heart chamber to chamber.
Herrick says that her cardiologist told her that the condition was very similar to something called hypertrophic cardiomyopathy, except that it wasn't genetic.
As Herrick's condition worsened, it began to take some very obvious physical tolls on her.
"I was out of breath easily," said Herrick. "I had trouble walking across campus without losing my breath." The heart condition started affecting her music as well. "I couldn't pick up my bow in symphony," Herrick said sadly.
Last year, Herrick's situation was getting critical. Her cardiologist wanted to send her to Mayo Clinic for surgery, but she asked him if she could take Lakeland's Concert Choir on their annual tour set to take place in April of 2012. As the choir's director, she looked forward to taking her students on tour with the band each year. Herrick explained with a smile, "He said, 'Yes, but then you must go to Mayo.'"
Following a successful choir and band tour, Herrick prepared to go to Mayo Clinic for open heart surgery similar to the type of surgery that would be done for hypertrophic cardiomyopathy. She received an "amazing amount of messages and support from Lakeland students and from symphony chorus." Because of all the thoughts and prayers from her friends and family, Herrick says, "I wasn't afraid [of the surgery]."
"I'd like to think that [my surgery] didn't affect [the music department]," Herrick said. When Herrick talked to the Dean of the College about having to miss the end of the school year, Meg Albrinck was very accommodating and asked Herrick how she'd like to deal with it. Herrick decided to bring in Mr. Bill Born, a Lakeland alumnus, to direct Concert Choir and prepare them for the baccalaureate ceremony while she was away.
With these plans in place, Herrick traveled to Mayo Clinic with her husband and sisters. When she arrived, she felt at ease.
"The Mayo system is amazing," Herrick commented. "They give you an itinerary like a vacation tour. Everyone is right on time, and it's perfectly coordinated. They make you feel like you're their only patient."
Herrick says that her doctor was one of the top four in the world that does this type of surgery. Though she knew she was in good hands, she says her first reaction after the anesthesia of the surgery wore off was, "Thank you, God; I'm still alive." She then spent some time in intensive care before being moved to the heart unit of the clinic.
This fall, Herrick is getting back into the swing of things. The Division Chair of Creative Arts, Denise Presnell-Weidner, did a search and found three new adjuncts to teach voice, music education, and vocal pedagogy—all classes that Herrick used to teach. This fall, Herrick only has a one credit overload, whereas she used to have three or more.
"We're all just happy she's back," says Megan Pettitt, Adjunct Instructor of Music.
"It's amazing how quickly Professor Herrick recovered and came back to work," said Dr. Russell Pettitt, Assistant Professor of Music and Director of Bands. "It's a testament to her inner strength. It's great to have her back, and we're off to a great start in the school year."
Indeed, Herrick's recovery has been fast. "I'm about 80 percent," she says with a smile when asked how she's doing. "It will be a while before I'm 100 percent. But I already feel better than I did before the surgery."
Hang on for a minute...we're trying to find some more stories you might like.