NFL Hall of Famer heads Lakeland's Athletic Department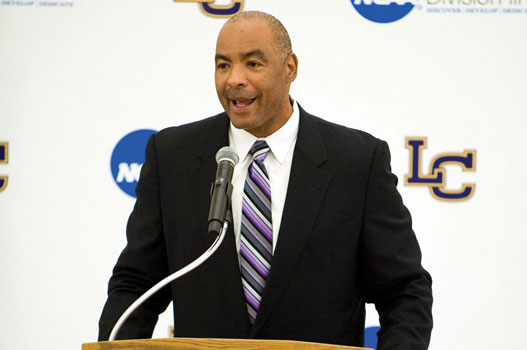 Kellen Winslow is Lake­land's new athletic director.  He has a law degree from the University of San Diego: School of Law and is a nine year NFL tight-end for the San Diego Chargers who happens to be a Hall of Famer and considered by many to be the greatest player his position has ever seen. Winslow was previously the Director of Athlet­ics at Central State University in Ohio before coming to Lakeland.
While many are familiar with Winslow's accomplishments, few truly know the man behind the fame.
Although Winslow no longer plays football, he is an avid player of both chess and golf. "I grew up playing chess," Winslow said. "As a matter of fact, I began playing chess before I began playing football."
The most important aspect of Winslow's life is his family. His proudest moment was when his son, Kellen Winslow Jr., walked out of Cleveland Brown's tunnel to play his first game after recovering from a motorcycle accident.
Winslow said, "[Kellen Jr.] came out of the tunnel and the crowd started to cheer…I got goose pimples—he didn't think he was going to return to football; a lot of people said he wouldn't, but he did, and he had a pretty good year. That was a very proud moment for me to see him come back from that accident, return to the field, and continue to do something that he loves to do."
Often, Winslow reminisces about his time in the NFL.
"What I miss most about the NFL is my teammates," Winslow said. "When you're in that upper echelon of a profession and you're taken away from that upper echelon, whether due to age or something else, you find that you miss those individuals who were there with you. It isn't until you're out of the game that you find you really miss them.
"We [the Chargers] had a great organization, a family type of setting. If somebody had a baby, everybody had a baby. We brought the kids to the locker room. Everyone knew the wives and the girlfriends. To this day I am still in touch with them. When something happened to someone on the team, everyone knew about it, everyone was involved, and we still come together around those issues."
In regard to his status as a Hall of Famer, Winslow said he is still in awe of the honor that accompanies it.
"[It's an honor to be an NFL Hall of Famer] simply because, first of all, when I go to Canton [Ohio], I always check to see if my bust is still in there—did they make a mistake and realize it?" Winslow said with a laugh. "[It's] very humbling. They thought enough of your career and your contributions to the game to bestow this honor upon you. For me, it's just a mindblower."
"I don't have [a favorite NFL team]," Winslow said. "When Kellen [Jr.] was in Cleveland, it was Cleveland, when he was with the Buccaneers, it was the Buccaneers. I grew up a Green Bay Packers and St. Louis Cardinals fan."A small Division III school in the midst of cornfields doesn't seem to be a natural home to a man of such accomplishment. What drew Winslow to Lakeland in the first place was his prior connection to President Grandillo.
Winslow said, "We met each other in Ohio through mutual business acquaintances. When he became President here [at Lakeland], he called me up and said, 'I'm President at Lakeland College now. It's a Division III school, and we want to be the best Division III sports teams college in the country—I need you to come up here and work with me.' So that's why I came."
Believe it or not, Winslow knew of Lakeland College before Grandillo's invitation. "I had heard of it, yes, because the only professional football player to come out of Lakeland, Pat Kern, was a teammate of mine in San Diego," Winslow said. "It is a very small world."
Winslow is most excited to see Lakeland grow. "We are going to put a foundation in place," Winslow said. "We will form a vision. What will this campus look like in a couple years in relation to building upon the athletic facilities? We have very capable coaches who do a very good job in their recruitment efforts and their handling of the students, but we have to improve our athletic facilities, thus improving the collegiate experience they have. We want to have the 'wow' factor. [We want athletes] to envision themselves here. That's how we are going to improve our enrollment. We will have to fundraise, and it will get the student body out into the community."
Winslow puts a lot of em­phasis on community involvement  "The team is important, but the community has to feel like they are part of it," Winslow said. "That's when they will come and support [our athletic teams]. If you do it the right way, you create a culture in which people who grow up in the community grow up with the thought of going to Lakeland. You have a pipeline of legacy that starts when they are young."
Winslow also strongly believes in his Health and Wellness Plan. He encourages students to live a healthy life in which they eat right, exercise, and get enough sleep to make sure they are at their very best for sports, classes, or anything else they must do. One thing he already changed was tak­ing away the trays in the cafeteria.
Winslow also says that employers are more likely to hire someone who is healthy rather than someone who is unhealthy. If these good living habits are started in college, then they will carry on with the student through graduation and into the real world.
Adding an NFL Hall of Famer to the Lakeland community is an exciting event, and the future looks bright for Winslow, a man who is just as talented off the field as he was on it. The age of Winslow has begun.
Hang on for a minute...we're trying to find some more stories you might like.