Malawian teacher training program ends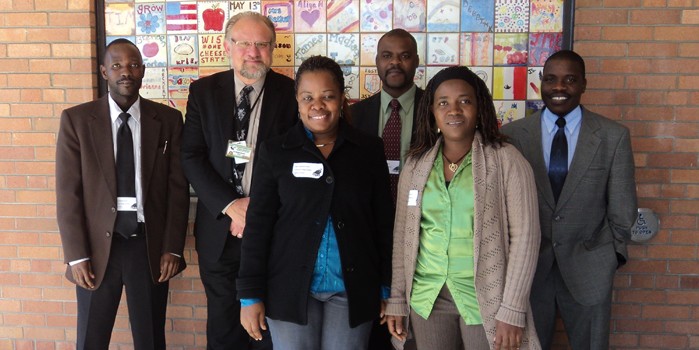 This semester is going to be the last of the Malawi Teacher Education Program, since the United States Agency for International Agency (USAID) decided to spend its future efforts on other areas of need, and all five Malawian students – Adams Disi, Justina Longwe, Khama Otaniele, Vincent Paseli and Alemekezeke Chitanje – are graduating this May.
Professor of Writing Jeff Elzinga, the program's facilitator, said in an e-mail interview, "I feel greatly disappointed that the program is ending because it did wonderful things for the development of Malawi, and it also did much to acquaint the Lakeland community with students from the warm heart of Africa."
All Malawian students received book money, airfare, and health insurance in addition to full tuition from the U.S. government through the Malawi Teacher Education Program, which aimed to train Malawi teachers to be teachers of teachers in primary schools.
"The Lakeland graduates have trained a few thousand teachers in Malawi since our first Lakeland graduates returned to Malawi in 2002," Elzinga said. "Their Lakeland College liberal arts education and perspectives have been passed on to those young students of theirs."
The five Malawian students said they have learned much from their time at Lakeland.
Chitanje, a senior general education major, said she remembers being surprised when she first got to America.
"Everything was advanced!" she said. She said she misses her home in Malawi – she hasn't been back since she arrived in August 2009 – but liked Lakeland. "I enjoyed learning other cultures by participating in international student events, community service, or volunteering, and just being in America."
All five students said they are proud of participating in this program and having the possibility to be future educational leaders.
"When a person is studying abroad, he is exposed to a wider perspective of how the world works," senior education and sociology major Adams Disi said in an email. "He understands other people's cultures as well as his. In most cases, he is open-minded and is not judgmental. This is why I came here and what I have achieved at Lakeland College in addition to intellectual, social, and psychological growth."
Vincent Paseli, a senior education and nonprofit organization management major, said studying at Lakeland has given him the chance to be involved in decision and policy-making in the education system in Malawi, which will eventually help the government achieve its development goals in education. He said he especially enjoyed the chance to meet people from all around the world.
"Lakeland College, being so diverse, has allowed me to meet people, not only from the USA but also from Asian countries, too numerous to mention, and many other countries," Paseli said. "I have learned that we are all equal despite the color [of our skin], cultural, and other differences. I made friends whom I will miss a lot when I go back home."
As the final step of the program, they will work in the ministry of education as teacher trainers at Teacher Training College (TTC) in Malawi after they graduate.
Lakeland College has accepted 55 students from Malawi since 1999, and each one has successfully graduated.
"More than 50 of them have or will have graduated with academic honors by the end of 2012, and all will have graduated with grade point averages above 3.0. Many of the graduates have already gone on to earn master's degrees. Two are working on Ph.D. degrees now," Elzinga added.
Unfortunately, this will be the end of the program. Still, Elzinga is optimistic.
"We have let the U.S. Government know that we would like to restart an educational relationship with Malawi, if the US Government is interested in being our partner again," he said. "We will have to wait to see if anything new develops."