Last four years, underage drinking LC's top crime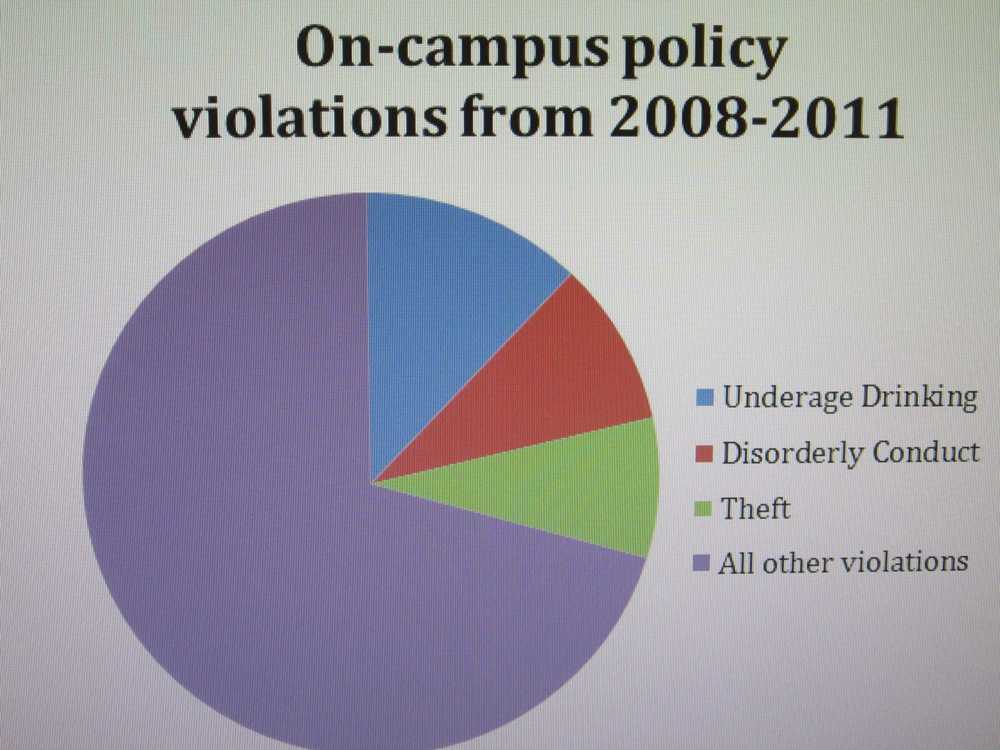 Underage drinking, disorderly conduct, and theft were the three most frequently committed policy violations on the Lakeland campus the past four years.
This is according to information provided by Director of Security Annette Gamache. Per The Mirror's request, she provided the complete crime logs security recorded from 2008-2011.
In those four years, underage drinking was reported 72 times, making it the most frequently reported offense. Disorderly conduct was reported the second most frequently at 55 times. Theft was the third most reported, with 48 instances.
Nearly every year, underage drinking remained the number one most reported policy violation. Each of the four years, the Lakeland security staff reported underage drinking an average of 20 times.
Jim Bajczyk, director of residence life, said in an email interview that the crime reports may not be completely accurate.
"Even if a student is written up for a violation and later found not responsible, it still appears on the report," he said.
Still, in a case of underage drinking, for example, security does not report the number of minors caught, but simply what occurrence took place and where (Security does keep track of incidents on campus in more detail in a different crime log).
The number of disorderly conduct policy violations reported in the last four years waivered from year to year. In 2008 and 2010 there were more reports of students being disorderly (19 and 20) than in 2009 and 2011 when the totals dropped significantly (7 and 9).
Although theft was the third most reported crime from 2008-2011, it was reported fewer times each year, going from being reported 26 times in 2008 all the way down to only two times in 2011.
Other crimes committed at a high frequency over the past four years were: the mis-engaging of fire alarms (reported 45 times), property damage and vandalism (42), and, though it is not technically a crime, medical emergencies (40).
The most interesting crimes reported are the following: public nudity and intoxication, possession of an air soft weapon, dumpster fire, false representation, illegal drinking games, public urination, and grease fire.
According to the National Center for Education Statistics, the top three policy violations at private colleges the same size as Lakeland from 2008-2010 were liquor law violations, theft/burglary, and drug law violations. The fourth most commonly reported crime was sex offenses.