Community Service Initiative spreads holiday cheer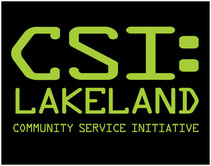 Would you like to help the community by taking part in fun and rewarding projects? If so, then the Community Service Initiative (CSI) group is looking for you.
CSI is an on-campus group that desires to promote interest in and to teach the value of community service projects by helping out the local communities near the campus. By partaking in service projects, you gain valuable skills that cannot be obtained in a classroom setting.
According to Rammer, "You benefit just as much from service activities as those you are helping."
The group is currently looking for a few volunteers for upcoming projects. You do not have to join the group to participate.
A fun service project that is currently going on is Send Santa to the Troops. This fundraiser collects holiday snacks and items for the troops that are overseas. The list of needed items can be found all over campus and the collection boxes are located in WAK, the Campus Center, Chase, and in the residence halls. Rammer is also accepting monetary donations to help cover the shipping cost. This project will be going on until Nov. 20.
If you know of a family or friend that is currently serving, Rammer is also taking names and information. The group would be happy to send a holiday box to them.
The group is packing the boxes on Nov. 28 in the pub at 7 p.m. and free pizza will be available for all volunteers.
If you would like to join the group, donate money for shipment, or if you know someone who would like to receive a holiday box, please contact Danielle Rammer at [email protected]