Security likely to carry guns soon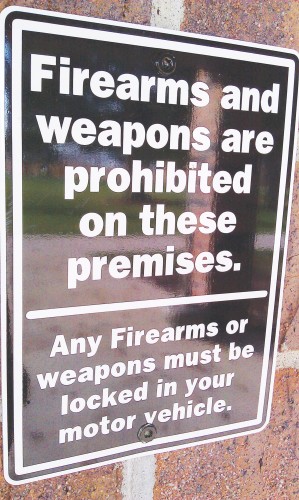 Lakeland's executive committee is considering a proposal that would allow the college's professional security staff to carry firearms while on duty.
The proposal would allow Annette Gamache and David Simon Jr., the director and assistant director of safety and security, respectively, to carry a gun while on duty. Lakeland's Vice President of Student Development Nate Dehne said the executive committee – President Gould, along with all of the vice presidents of Lakeland College – have discussed the proposal and will continue discussions in the upcoming weeks.
Dehne said Gamache has been in favor of security carrying weapons for some time. This feeling had strengthened after the Concealed Carry Weapons (CCW) law went into effect Nov. 1. The law allows anyone with a CCW permit to carry a concealed weapon in public. The law still bans weapons from several public areas such as schools, certain government buildings, airports, and mental-health facilities. Private properties can post signs prohibiting weapons from being carried into buildings, but cannot legally ban people from carrying a weapon on the grounds or from storing the weapon in their locked vehicle.
At Lakeland, weapons have been banned from all buildings and fenced areas, and signs have been posted around campus at each doorway to remind people that weapons cannot be carried inside. The only place you are legally allowed to have a weapon on-campus is in your locked vehicle or on the open grounds, as long as you have a CCW permit and are legally allowed to own a weapon.
Dehne said the executive committee and Gamache think the new CCW law could result in more guns being on campus. While they don't think this will result in more dangerous situations on campus, like a situation with an active shooter, they want to be prepared for the possibility.
He said that while the committee has not yet officially decided that Lakeland's professional security will carry guns, the committee "is seemingly going in that direction."
"Lakeland wants to be proactive rather than reactive," Dehne said. "We want to better protect students, faculty, and staff in response to those types of emergencies. I would want our professional staff to be on a level playing field."
Dehne said Lakeland is not the first college or university to decide to allow their professional security to carry guns.
Both Gamache and Simon have carried weapons in previous law enforcement jobs and are proficient in weapons-training and tactics. In Gamache's previous job as a sergeant at Marquette University's department of public safety, she carried a gun daily, and has been certified through the state of Wisconsin. Simon has a law-enforcement background as a school liaison officer and was the director of security at a charter school in Detroit, MI.
Gamache said that if an active gun situation occurred on campus now, the closest assistance would come from the Sheboygan County Sheriff. They could take around eight minutes, at best, to arrive on the scene, she said.
"If something were to happen, I am not able to do anything to protect you [students]. And for me, that is disheartening," she said.
Dehne said some of the details of the proposal – like whether Gamache and Simon will carry school-issued or personal guns, and what legal liability comes with a policy like this – will be discussed by security and the executive committee in the next few weeks.
"It is a sensitive and politically-charged topic," Dehne said. "I am certain that there will be questions and concerns that may arise, and that is why we are not rushing to simply hand over weapons to staff and say 'Keep us safe.' We will do our due diligence to do this the right way, always keeping in mind the safety of our professional staff and the campus community."

Hang on for a minute...we're trying to find some more stories you might like.