Forums out in this year's search
Late-stage candidates vying to become Lakeland's next president will not participate in open forums when they visit campus next spring, Chair of the Presidential Search Committee (PSC) Jeff Ottum announced in a letter on the Lakeland website Oct. 19.
After candidates have been narrowed down to a select few by next semester, the PSC will introduce them to representative groups of college entities – like the faculty and students – but not in public forums like the ones held for last year's candidates, Ottum said.
According to the consulting agency Lakeland hired for this search, Witt/Kieffer, this approach should attract "a high caliber pool of candidates" and get feedback from people on campus while maintaining candidates' confidentiality.
"A lot of people that might be interested in your position – who are typically actively employed and doing great at their current institution – a lot of those people are not even going to apply for Lakeland's job if they know you might release their names if they become finalists," he said. "The reason is because they don't want to send a signal to their current institution that they're out looking or that they're somehow in some way dissatisfied with their position.
"The simple point is that if we can assure candidates that their candidacy will remain confidential, we're very likely to get more, and stronger, candidates to apply for the job," Ottum said.
The committee spent hours discussing the pros and cons of not holding public forums, said Ottum. They knew it was possible that people who might want to meet candidates won't be able to. But by the end of the discussion the committee unanimously agreed not having forums would help them hire the best person.
Ottum said that, while the PSC expected feedback on the decision, "it has been pretty quiet." He added that the most specific feedback he has recieved was an email from a member of campus whose identity he wished to keep private. It said, "Sounds like you guys realized there's a balancing act between a black box and a circus. Sounds like you found the right balance by working in between here."
Ottum said Witt/Kieffer is now compiling a list of candidates to replace President Stephen Gould, who is scheduled to retire after the school year. Starting in January, the PSC will begin narrowing down the list.

Hang on for a minute...we're trying to find some more stories you might like.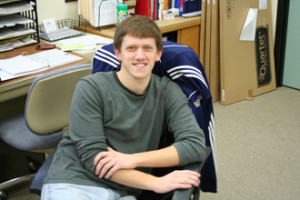 Danny Spatchek, Editor in Chief
Editor-in-Chief

Before he became editor, Danny Spatchek was a staff writer, sports editor, and managing editor of The Mirror. He's written about sports...