Two Thanksgiving recipes to sweeten the holiday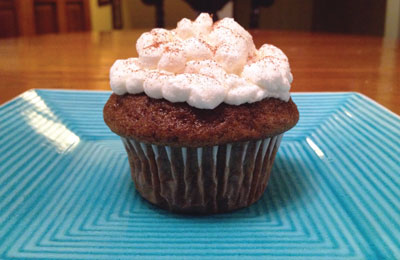 Pumpkin Spice Latte Cupcakes with Whipped Cream Frosting
by Katie Amundsen
As the temperatures of autumn continue to drop, there's almost nothing better than sitting down to enjoy a hot drink from a coffee shop. One of the most popular drinks of the season is the pumpkin spice latte, so why not enjoy this delicious drink in cupcake form? These cupcakes have just the right amount of espresso flavor to make them perfect for breakfast! The recipe was taken and slightly modified from a recipe blog called Tide and Thyme (tideandtyme.com).
Ingredients:
• 2 2/3 cups all-purpose flour
• 3 tbsp. espresso powder
• 2 tsp. baking soda
• 2 tsp. baking powder
• 1 tsp. ground cinnamon
• 1/8 tsp. grated nutmeg
• 1 tsp. salt
• 1 (15 oz.) can pumpkin puree
• 1 cup sugar
• 1 cup brown sugar
• 1/2cup vegetable oil
• 1/2cup buttermilk
• 4 large eggs
• 1/2cup coffee or espresso, for brushing
Preheat the oven to 350 degrees Farenheit. Line cupcake pans with paper liners. In a medium bowl, combine the flour, espresso powder, baking soda, baking powder, cinnamon, nutmeg, and salt. Stir together and set aside. Add the pumpkin, granulated sugar, brown sugar, buttermilk, and oil to a bowl. Use an electric mixer to combine. Add the eggs one at a time, beating well after each addition. With the mixture on low speed, add the flour mixture in two additions, mixing just until incorporated.
Fill the cupcake liners 2/3 of the way full. Bake for 18-20 minutes, until a toothpick inserted into the center of a cupcake comes out clean. Transfer the pans to a wire rack and let cool for ten minutes, and then remove the cupcakes from the pans. While the cupcakes are still warm, brush them two or three times with the coffee or espresso, allowing the first coat to soak in before repeating. Let cool completely.
For the frosting:
• 2 1/4 cups heavy cream, chilled
• 1/4 cup confectioners' sugar
For the frosting, place the heavy cream in a bowl, and whip with a mixer on medium-low speed at first, gradually increasing to high speed. Blend in the confectioners' sugar gradually. Whip until stiff peaks form, being careful not to over-beat. Use a pastry bag fitted with a decorative tip (I used a zip lock gallon bag with the lower corner tip cut off) to frost the cooled cupcakes. Sprinkle with ground cinnamon. Store in an airtight container and refrigerate. Makes about 24 cupcakes.
Pumpkin Cookie Recipe
by Leah Ulatowski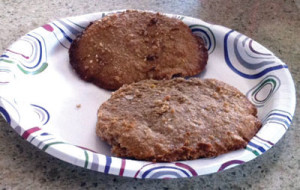 Halloween has come and gone, and now many find themselves with a surplus of pumpkin. If you would like a pumpkin dessert more atypical than a pie, then pumpkin cookies are the perfect choice. Not only are they just the right amount of sweet and soft, but they are also a wonderful Thanksgiving treat that will appeal to both adults and children alike.
This recipe was inspired by "The Best Pumpkin Cookies" on www.food.com with a few modifications.
Ingredients (should yield about 48 cookies):
• 1 cup of butter or 1 cup of olive oil
• 1/2 cup of cane sugar
• 1/2 firmly packed brown sugar
• 1 cup of canned pumpkin or 1 cup of homemade pumpkin puree
• 1 egg
• 1 teaspoon of vanilla extract
• 2 cups of flour
• 1 teaspoon of baking soda
• 1 teaspoon of baking powder
• 2 teaspoons of cinnamon
• 1/4 teaspoon of salt
Directions:
Preheat the oven to 350 degrees Farenheit and prepare a few ungreased baking sheets. In a large mixing bowl, cream (use your mixer at medium speed) the butter and the sugars together until light and fluffy. Blend in the pumpkin, egg, and vanilla extract.
In a separate bowl, stir together the flour, baking soda, baking powder, cinnamon, and salt.
Mix the above flour mixture into the fluffy butter-sugar mixture.
Place tablespoonfuls of the mix three inches apart onto the ungreased baking sheets.
Bake the cookies for ten to twelve minutes until golden around the edges. Remove warm cookies and transfer to racks.
Allow to cool for half an hour and then enjoy!

Hang on for a minute...we're trying to find some more stories you might like.