Honors Recital showcases Lakeland's musicians
The Lakeland College Music Department held its Honors Recital on Nov. 13 to feature a variety of musicians and singers.
Kyle Stowers, music education major, opened on the trumpet. Stowers played movements two and three from Concertino for Trumpet by Knudåge Riisager.
Ben Johnston, music performance major, picked up on Stowers's smooth tone when he played Sicilienne by Pierre Lantier on the saxophone.
Next James Trazile, music education major, performed a memorized piece at the piano called Nocturne in C-sharp Minor by Frédéric Chopin.
Kayann Botana, vocal performance major, followed with a heartfelt rendition of Le Charme by Ernest Chausson, a French song about the female narrator falling in love.
Following Botana was Alexandra Wilson, music education major, who performed Image for Flute Solo by Eugène Bozza.
The next piece was the audience's favorite. Fabian Qamar and Cody Linder, both vocal performance and pedagogy majors, performed a humorous duet. Vivat Bacchus! Bacchus Lebe! by Wolfgang Mozart required the two to drink to Bacchus, the Roman god of wine.
Katie Christensen, piano performance and pedagogy major, followed with a piano solo, Sonata in A Major by Domenico Scarlatti. It was obvious Christensen had put a lot of effort into memorizing the song, but when asked about this later, she said, "My favorite part was performing in my first Lakeland recital."
Next was Matthew Troyer, trumpet performance major, playing Sonata for Trumpet and Piano by Kent Kennan, with Dr. Arthur Johnson, associate professor of music, on piano.
Malcolm Deon Blakley Jr., music performance major, also played an energetic song: Rumba by Maurice Whitney.
Stephanie Wasmer, music education major, then sang a song called Ridente la Calma by Mozart.
Yuka Komano, piano performance major, took the stage with a performance of Sakura-Sakura by Kozaburo Y. Hirai on the piano.
Jenna Lee Howell, music education major, played the first two movements of Sonata for Bassoon and Piano by Paul Hindemith, with Dr. Olga Rua on the piano.
Caroline Ray, flute performance major, then played the first movement of Concerto for Flute and Orchestra by Jacques Ibert.
Linder reentered to finish the performance with An Die Musik by Franz Schubert.
Afterward, Miranda Miller, Spanish major, was proud of her fellow Lakelanders. "I'm honored to have so many musicians as friends," said Miller. Lakeland is honored, as well, to have these talented musicians here.

Hang on for a minute...we're trying to find some more stories you might like.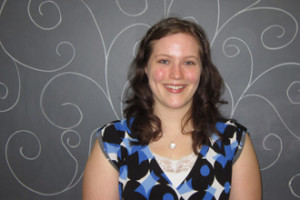 Michelle Fromm, Managing Editor
Michelle Fromm is a senior at Lakeland College studying writing. She enjoys writing feature stories for the Mirror, singing in Lakeland's Concert Choir,...