Honors class holds Atrocity Awareness Week
Recently there has been a lot of buzz about "Kony 2012." If you haven't seen the 30-minute video—which now has over 88 million views—that's been making the movement so popular, a quick search of Youtube will get you there.
Joseph Kony is said to have kidnapped over 30,000 children in the past 26 years, forcing girls to become sex slaves and boys to become child soldiers. However, there has been some controversy as to how wisely the Invisible Children organization, which began the movement to stop Kony in 2012, is spending its funds.
Regardless of the legitimacy of the organization's spending, the five women that make up Dr. Krista Feinberg's class, HON 370: Truth and Reconciliation in the Face of Atrocity, recognized that atrocity awareness, especially human trafficking, was something Lakeland's campus needed.
In light of this, the women decided to combine their efforts at final projects for the class to create Atrocity Awareness Week. Dr. Feinberg, Maria Jacobs, Kayla Stevens, Abby Block, Tarra Bourgeois, and Michelle Fromm planned the week to include fundraising for three different charitable organizations and awareness for four different issues around the world.
Atrocity Awareness Week began on Monday April 16 with the first day of the bracelet sale. The sale took place in Bossard Hall during lunchtime throughout the week and raised several hundred dollars. Over $200 went to Global Girlfriend, almost $100 to the Restavek Freedom Foundation, and over $400 to the Red Thread Movement.
The class sold bracelets and stickers that had a picture of a Nepalese woman and said, "I bought this so they couldn't buy her," from the Red Thread Movement to support the organization's efforts to stop women from being used as sex slaves in Nepal. The handmade bracelets of red embroidery floss on display had been made by women rescued from the sex trade by the people behind the Red Thread Movement.
Patrons who wanted to wear beaded bracelets or necklaces were given the option to order products made by Global Girlfriend, an organization that employs and educates African women. Abby Block, a senior nonprofit major, came up with the idea to charge a little bit more than the usual price for these handmade items so that some funds could be raised for the Restavek Freedom Foundation.
The Restavek Freedom Foundation is an organization that seeks to save Haitian children from a life of child slavery by getting them out of their deplorable situations and placing them in loving homes.
Haiti's traditional practice of restavek occurs when a child's family is too poor to properly care for the child. The family then decides to give their child to another family, the host family, which is a little bit better off than them. The host family—which may be that of a relative, friend, or complete stranger—normally promises to send the child to school and care for him/her. But the reality is usually that the child is treated as a subhuman slave by the host family and is almost never allowed to attend school.
On April 17th, the HON 370 class set up an exhibit in Bossard Hall as part of Atrocity Awareness Week in order to show students and Lakeland's wider community what it would be like to be a restavek child slave.
The exhibit had footprints on the ground to lead participants through it. They began by walking down a path with heartrending photos of very young child slaves on either side. At the end of the path was a mirror, which confronted participants with their own image, as if to remind them how lucky they probably were compared to these children who had already gone through so much.
The exhibit contained various stations to show what a day in the life of a child slave would be like, including a table with various objects—such as a piece of wood, a brick, and an electrical cord—which would be used to beat and whip the children. Another station was designed to show participants what it would be like to scrub burnt food off of dishes using a rock. Yet another station had a bucket of fake urine for exhibit-goers to empty out.
At the last station, the "Hope Station," participants were asked to write a message of hope and encouragement to the child slaves. The HON 370 class will be sending these messages, along with a donation from the fundraiser, to the Restavek Freedom Foundation so that the notes can be translated and given to the children.
The notes were posted on a bulletin board, which was set up in the Pub on April 19th for Atrocity Awareness Week's final event, a fiction reading and debriefing, in the hopes that the messages would inspire those who hadn't been able to go to Tuesday's exhibit.
At the reading, Michelle Fromm read a piece of fiction she had written based on the true stories of the Vietnamese war refugees known as "boat people." Boat people escaping Vietnam after the fall of Saigon faced many dangers, including being kidnapped for the sex and slave trades by Thai pirates, which is what happened to one of the characters in Fromm's story.
After all her students' hard work, Dr. Feinberg said that Atrocity Awareness Week "far exceeded my expectations…I am emotionally, intellectually, and spiritually enriched by this interaction with the students."
Kayla Stevens, whose main focus for the week was the restavek exhibit, said that she hoped the week's events would "inspire [students] to be agents of change, not only in their community, but in the wider world."
Block "learned that sometimes people surprise you." Dr. Feinberg agreed, explaining, "I'm surprised at the depth of the people's generosity and that we have the power to make a difference."
Maria Jacobs was also very pleased with the outcome of Atrocity Awareness Week. "Our little group made a difference," she said with a smile.

Hang on for a minute...we're trying to find some more stories you might like.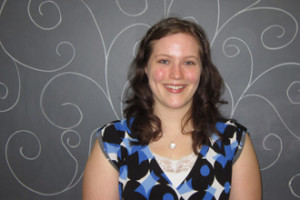 Michelle Fromm, Managing Editor
Michelle Fromm is a senior at Lakeland College studying writing. She enjoys writing feature stories for the Mirror, singing in Lakeland's Concert Choir,...