New exhibit features faculty art in variety of style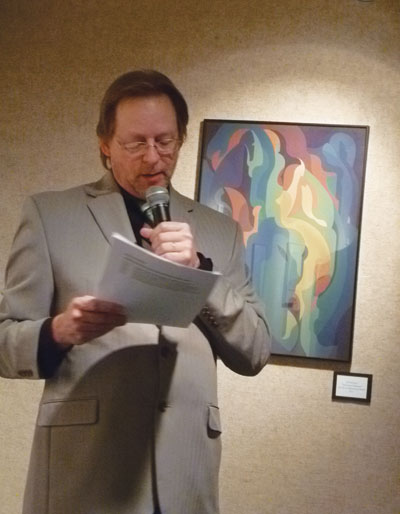 Associate Professor of Art William Weidner, adjunct art professor Dionne Landgraf, Ph.D., and Associate Professor of Art Denise Presnell-Weidner hosted the reception for the biennial Lakeland College Faculty Art Exhibition this past Friday Oct. 29.
The array of art that the three professors chose to feature ranged from small sketches of just a few inches to large paintings done on canvas nearly as tall as the artists themselves, as well as a plaster sculpture by Weidner called "A Preacher's Practice." Stylistically speaking, the art included realism, fantasy, and abstract works. Weidner explained that most of the art had been created in the past two years and much of it is ready to be sold to the public.
Weidner began the reception with an explanation of his body of work. Pointing out his realistic figure drawings, he said , reading from his artist's statement, that he has "135 figure drawings, all of which I have produced in the last two years." But it was apparent that he took greater pride in his latest achievements in abstract art, which he says have more "creative freedom."
Weidner explained his process to his curious audience. "I just begin to divide the space with a ruler and compass." He said he tries to keep the shapes abstract for as long as he can before eventually giving in to developing shapes that remind him of various objects, usually from nature, such as a bird or a fish. He then fills in the shapes with paint freehand.
In discussing the salability of his work, Weidner emphasized that he didn't want that to factor in to the art he chose to produce. "I want to have a part of my life that has that purity to it," said Weidner in reference to producing work that he enjoys.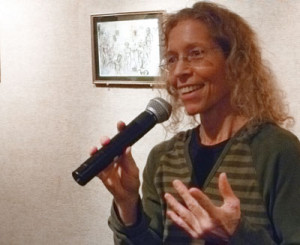 Next Landgraf introduced the reception-goers to her body of work, which included numerous paintings of figures in fanciful positions and environments. "The figure, for me, is a vehicle for the expression of the soul," said Landgraf.
Many of Landgraf's pieces contain waves or water, which she says was inspired by her childhood growing up near Lake Michigan. "It has a personality," Landgraf says of Lake Michigan. "It's a friend."
Landgraf went on to explain how incorporating painted words and poetry and images of levitation held special meaning for her, both in the physical world and in the spiritual world. Another common subject for Landgraf is her daughter; she says that painting her daughter "as she was growing up drew me to her and allowed me to express myself as an artist as well."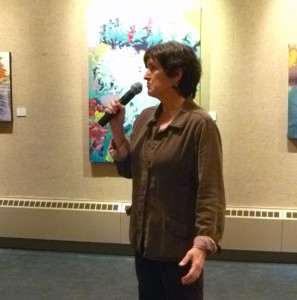 Presnell-Weidner then took the microphone to discuss the work that she had on display, explaining that much of her work from the past two years had already been sold.
Gesturing towards two walls—one with her large brightly-colored paintings of natural elements and the other with her small achromatic solar etchings—Presnell-Weidner noted her "big variation in style," which she attributed to her changing life situations that took her in and out of the studio.
Presnell-Weidner explained that she was trained in an abstract art school and works alongside her husband, Weidner, whose forte is abstract art. And yet Presnell-Weidner prefers realistic art. "I usually come back to realistic work. That seems to be my home."
Presnell-Weidner called herself a colorist and said, "When I like a painting, it's usually because I could just eat that color."
She is also inspired by the new possibilities that Photoshop and other technologies add to art, including solar etching, which she enjoys using to produce images mainly of her family members.
The art for the exhibition will remain on display in Bradley Fine Arts Building until Nov. 3. More information about the artists and their work can be found in their artist's statements that are available there as well.

Hang on for a minute...we're trying to find some more stories you might like.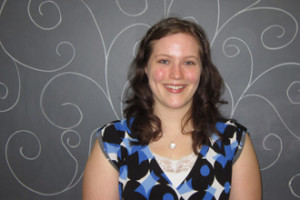 Michelle Fromm, Managing Editor
Michelle Fromm is a senior at Lakeland College studying writing. She enjoys writing feature stories for the Mirror, singing in Lakeland's Concert Choir,...