NBA lovers will love "The Book of Basketball"
Bill Simmons loves the NBA. Like borderline-unhealthy loves it. He has since he was five years old in 1973, when his dad bought season tickets for their home team, the Boston Celtics. From that time on, Simmons has pined after his Celtics like a smitten teenager.
He regrets to this day choosing prom over a playoff game ("I didn't hook up on prom night or even come close"), remembers the exact expression on his face after Larry Bird missed a buzzer-beater by a fraction of an inch in the deciding game of the 1987 Finals ("I look like a doctor just told me I have VD"), and, because of the Celtics, had a racial identity crisis as a six-year-old, eventually assuming the Muslim name Jabaal Abdul Simmons ("I didn't know any better. I wanted to play for the Celtics and most NBA players were black").
Now in his forties, writes Simmons in "The Book of Basketball," he's matured. He admits that even though he loves basketball and its premier league unconditionally, it's not perfect, namely the way "Hall of Famer plaques are randomly showcased with no real thought given to each player's specific place in history." So, in what he terms a "pipe dream"—but what his readers will regard as a doped-up stroke of genius—Simmons argues for an NBA-specific Hall of Fame and creates a list of the 96 NBA players who belong in it.
But even though his knowledge of the league must be in the upper 99.9 percentile, can Simmons be trusted to objectively rank NBA players? As noted in paragraph one, he has something of a history with one east coast team. He's an unabashed Boston sports homer and, to the delight of his ESPN.com column's fans, doesn't contend otherwise.
In one such 2010 column, he admits that after discovering his daughter's favorite color was Lakers Purple, he immediately launched a smear campaign against the Celtics' rival in his house, telling her Kobe Bryant was mean to his children and Phil Jackson hated golden retrievers. With all this in mind, can Simmons be trusted as the lone member of a hypothetical NBA Hall of Fame committee? Yeah, right. And Grizzly Adams had a beard.
But by the end of "TBOB," Simmons' mix of barstool humor and "I never considered it that way" insights about the NBA make the issue of his objectivity seem unimportant.
Consider Simmons' section on his 57th ranked player, Tommy Heinsohn, the Boston forward who won eight championships in the 50s and 60s. Instead of writing strictly about Heinsohn's merits on the basketball court, Simmons opts for a personality profile, painting Heinsohn as a cigarette-smoking, beer-drinking team clown. Sure, he notched clutch performances in postseasons, but Simmons deems it equally important for the reader to understand that, "Tommy sounds like the kind of guy who'd sneak into your hotel room, take a horrendous dump, not flush it and let it fester in there for ten hours until you came back to your room and passed out." Segments like that make it nearly impossible to wonder if he ranked a player too high.
But he still leaves no room for readers to doubt the integrity of his rankings. In a move unfathomable until the page it happens, Simmons concedes that his idol, "The Basketball Jesus" Larry Bird, was not better than Magic Johnson or Kareem. It evidences the supreme respect Simmons feels for basketball; he wouldn't write a 700-page book just to tell a few snotty jokes.
Really, Simmons' Hall of Fame is just an Obamacare-lengthed plea for NBA justice, and it's not the only one he makes. He devotes an entire chapter to settling questionable MVP races, like the 1997 "crime scene" in which Karl Malone edged out Michael Jordan just because "everyone was Jordaned out."
He's sincerely disgusted with the racism that caused Oscar Robertson to lose faith in humanity. He even feels a little defeated himself when he witnesses owners lead teams with their wallets instead of their hearts, like Suns owner Robert Sarver, whose stinginess Simmons claims deprived Steve Nash the chance to pass to the likes of Joe Johnson and Andre Iguadola: "Why own an NBA team if you're going to cut costs? What's the point? Why would that be fun? So people could stare at you during dinner and whisper, 'Hey, that's the cheap-ass who owns the Suns'? This pisses me off. What a wasted chance, and what a waste of Nash's prime. (Note to the Phoenix fans: you can now light yourselves on fire)."
Note to readers: Bill Simmons loves the NBA.

Hang on for a minute...we're trying to find some more stories you might like.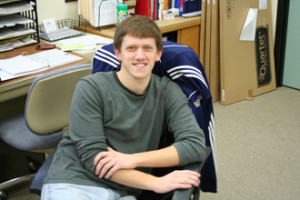 Danny Spatchek, Editor in Chief
Editor-in-Chief

Before he became editor, Danny Spatchek was a staff writer, sports editor, and managing editor of The Mirror. He's written about sports...