Kevin Fitchett: Lakeland's Outlier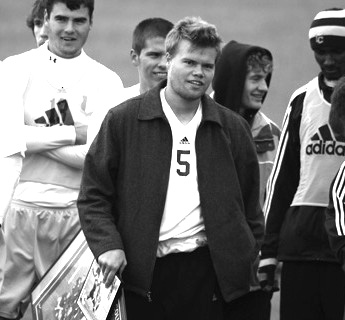 The dictionary's definition of the word outlier reads as follows: 1) something that is situated away from or classed differently from a main or related body. 2) a statistical observation that is markedly different in value from the others of the sample. 3) Kevin Fitchett
Okay, Webster hasn't listed Kevin Fitchett as one of the definitions to the word "outlier," but Webster doesn't know Kevin Fitchett.
During his four years at Lakeland College, Kevin Fitchett has indeed gained the reputation as an outlier amongst the school's student body for his excellence in every area he's involved in. Fitchett pulls a 3.73 GPA as a double major in Writing and English and, perhaps even more impressive, does so while enrolled in Lakeland's reading intensive honors program.
"I've always liked to read, and it's exciting to be able to write something and read it in its initial entirety," he said in a quiet corner of Lakeland's Academic Resource Center, where he works as a tutor to undergraduate composition students.
Of all the writing genres, Fitchett has an enduring affection for poetry. "I like the idea that you can write a poem regardless of money or who you are and have it published for the price of a stamp alongside great or famous writers."
As a writing major, Kevin inevitably met Fessler Professor of Writing and Poet Laureate Karl Elder and the two formed, as described by Elder, something close to a "collegial relationship."
A formidable writer in his own right, with two nominations up for the 2010 Pushcart Prize and his own literary magazine to boot (SEEMS and Word of Mouth Books), Elder offered high praise to Fitchett's writing ability.
"Kevin is a remarkably prolific writer, and he's had success in virtually every genre he's attempted."
While most writing majors work on The Mirror, Fitchett's writing prowess gained Elder's attention and soon he was employed as a student editor of SEEMS, one Elder can count on when in doubt.
In 2008, the pair travelled to the Foot of the Lake Poetry Collective in Fond du Lac where Fitchett's creative nonfiction piece turned heads. Two exceptional writers on nearby college faculties praised Elder's pupil, essentially saying, according to Elder, "God, I wish I could write like that."
Kevin's talents extend beyond the classroom as he excels on Lakeland's soccer team as the team's left midfielder. Kevin's outstanding play during his senior season placed him in impressive company when he was chosen for the Northern Athletics Conference First Team, All-Wisconsin Team, All North/Central Region Team, as well as being tagged with the prodigious Adidas Scholar Award.
His skill is evident even to bystanders unfamiliar with the game as he easily cuts past opposing players and bamboozles defenses with his vast arsenal of moves. Even though Fitchett often holds the ball for extended periods of time, teams rarely dispossess him due to his physical style of play.
His on-field physicality, coupled with the idea of being a student-athlete, intrigues Fitchett the most.
"I like being able to play soccer aggressively and then leave the field and be a student," says a delighted Fitchett, grinning ear-to-ear while deliberately searching for a simile to express the manner in which he plays his role as a student-athlete.
"It's like a housecat that goes out and slaughters a mouse and then goes home and lives in domesticity and can sit on the carpet with blood on its paws."
Vintage Fitchett.
Fitchett's coach, David Madsen, has a slightly different view of the team's graduating midfielder who, by the way, led a freshmen-laden Lakeland team to its first winning season since 1994.
"Kevin's an intense, dynamic player who has qualities that you just can't teach. His more-than-proficient skill set, combined with his ability to grab the game when we needed it, made him that much more dangerous."
"Dangerous" is just the way to describe Fitchett's time in a Lakeland jersey as he accumulated 21 yellow cards and 2 reds over four seasons due to his over-zealous tackles and sometimes disrespectful treatment of officials. Fitchett doesn't deny the allegations.
"I probably had the most suspensions in the history of Lakeland soccer," admits a misty-eyed Kevin Fitchett, perhaps longing to give one more official a tongue lashing for a whistle against him.
While living on campus, Fitchett faced much more serious charges than soccer suspensions. Fitchett and his roommates frequently held parties in their apartment which led the Resident's Life Staff to sanction the apartment. When the parties continued, the police intervened in what Fitchett refers to as a "historic mishap" and removed Fitchett from campus.
"We were written up for various reasons I like to call 'good-hearted shenanigans,'" explains Fitchett matter-of-factly in perhaps the most unapologetic tone of all time. He insists on offering his own, slightly-modified version of the events.
"Every year someone has to be sacrificed and that year it was us. But, if a parade goes on in the streets, do you blame the mayor? The paraders? Or do you blame the spirit of the fiesta? They blamed the mayor."
Despite Kevin Fitchett's controversies at Lakeland, he has undoubtedly gained the respect of his peers and teachers.
"I fully expect that not only will he be accepted into a graduate school master of fine arts program, but he will probably get a full ride," says a nostalgic Karl Elder, as if realizing he can't hold on to his favorite student.
And Fitchett feels the same way. Fitchett is proud of his collaboration with Elder and Lakeland alumni Dave Hillstrom in a musical rendition of Elder's recently published poem "The Houdini Monologues." He's appreciative to Professors Meg Albrinck, Peter Sattler, and Linda Tolman, who offered him "a different type of education."
"If I ever do succeed as a writer and educator myself, it will mostly be because of my teachers, especially Karl," says an equally nostalgic Fitchett. He's also grateful for his first writing teacher at Lakeland, Jeff Elzinga, who inspired him to be a writer. In fact, Fitchett says he's gained something from every Lakeland teacher he's had.
"I usually am not one to get sentimental, but I think these stories capture the serious respect and joy I associate with Lakeland College."
Ironically, Fitchett's sentiments, which virtually mirror the feelings of every graduating senior, aren't as maverick as you'd expect.
Lakeland's greatest outlier wouldn't have it any other way.
Hang on for a minute...we're trying to find some more stories you might like.