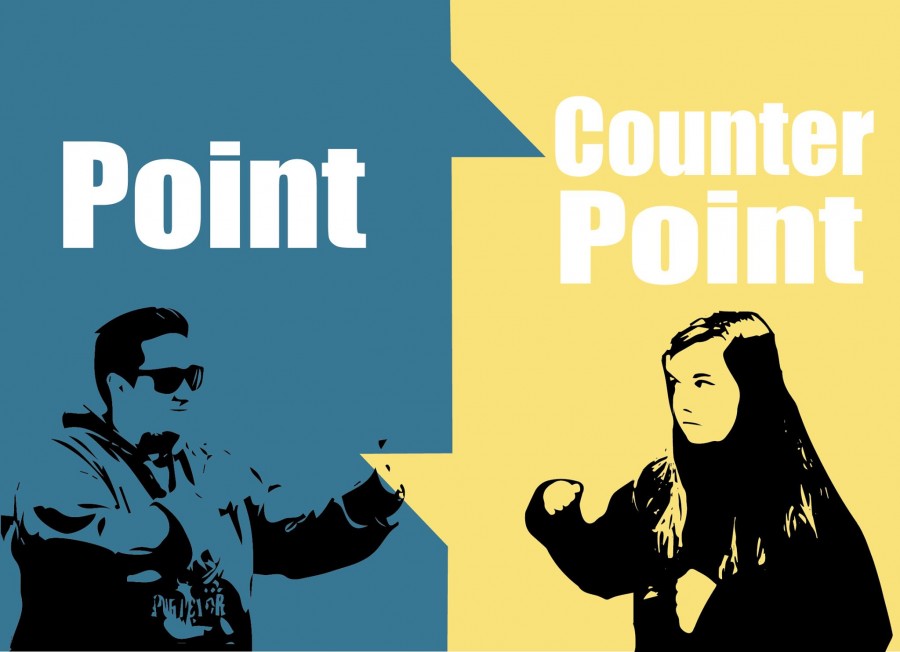 Point Counter-Point: Should students continue to depend on staff when so many leave?
April 5, 2016
In the last week, it was announced that two members of the Lakeland community would be leaving, one a Student Success and Engagement Coach, the other an instructor of music and director of choral activities. Given that these are not the only personnel to leave the college this year, some students may question whether or not they can or should rely on such people. Read our columnists views on this issue of role vs trust:
Ask anyone about Lakeland and nine times out of 10 they will mention how much they love the community aspect of the college.
But what is happening to our community? The college is worried about student retention, but what about staff retention?
By the end of this academic year, Lakeland will have lost at least 14 members of its staff or faculty – that's a significant number.
The majority of these are staff members, people like Rick Herian, student success and engagement coach, or Lucas Dulmes, Great Lakes Internship Grant coordinator. Additionally, Whitney Diedrich, another success coach, will be leaving the college on April 15.
These are people who students have grown to trust, have learned that they can be counted on if they have a problem.
If the people filling such roles become a revolving door of faces with which students find they cannot connect due to the fact that the college cannot keep the position filled for a long enough period of time, why would anyone want to go to them in the first place?
When I came to Lakeland last year, Kay Voss was my success coach. She left at the end of the last school year.
Rick Herian filled her position. He left earlier this year, not even staying a full academic year.
I've had two success coaches in not even two full years, and I'm supposed to what, ignore the fact that I don't even technically have one right now and just be open to discussing my school issues with whoever may be free or new in the success office?
No. That's not fair to students. It's not really even fair to the other staff members, either, having to try and pick up the slack left in the wake of employee absence.
Part of the appeal of Lakeland is that, as a small school, staff and faculty get know students. When, in my case, an assigned student resource is no longer in that role, then what is the point?
I'm lucky that the professors and advisors in my areas of study are able to fulfill most of my needs, should I have any questions or concerns.
I like that Lakeland is a community. I just wish that some parts of it didn't feel like it was turning into a way station community.
Leave a Comment
This year marks many changes at Lakeland: we are changing our name to university, majors and emphases are being added and, for better or worse, there are many staff and faculty changes that we have already seen.
Staff and faculty seem to be dropping like flies. Some are being hired at other colleges with better pay and opportunities, some are quitting because of lack of student ambition and others contracts are not being renewed.
In times like these it seems hard to form a connection with the staff and faculty in fear that they won't be there for you in the future.
Distancing yourself from staff and faculty because you are afraid they might not be there next semester is a pessimistic way to go about your college career. However, it is upsetting to meet a professor or staff member, spend years building a great relationship with them, only for them to leave suddenly.
If we are concerned with the staff leaving, why not give them a reason to stay? The best part of Lakeland is the family feel and the connections that we make. Some staff and faculty may not feel comfortable with the Lakeland family or haven't been properly introduced into it.
Why can't we treat our staff and faculty better so they want to stay? Why can't Lakeland be the college for which other people leave their current jobs to work?
Is it that hard to get to know someone, even if it is for only a short time? I agree, it is frustrating to be bounced around from person to person, but if you ignore someone you are encouraging them to leave. Most people hired here want to help us as students and see us grow as individuals.
Lakeland shouldn't be a stepping stone for people to rise to greater opportunities. We as students need to do our part to make Lakeland a welcoming place where people want to stay.
And for those faculty and staff that are reading, we need your help, too. Get to know your coworkers and make sure they are welcome here.
Leave a Comment