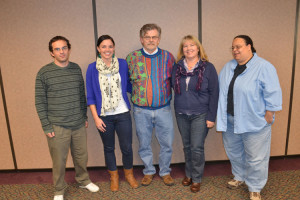 Leah Ulatowski and Heather Hartmann

November 15, 2012
One might say it takes a writer to know a writer, to truly comprehend a career that revolves around making a masterpiece out of a blank page. Fortunately, Lakeland College's annual Great Lakes Writers Festival (GLWF) is the perfect place for writers on campus to connect, perfect their craft in workshops,...
Heather Hartmann, Staff Reporter

September 19, 2012
Kaye Martin, director of student activities How would you describe Lakeland? Home. It is a tightly-knit community that our students fall in love with and refer to as their home. How did Lakeland or you change over the years? We are growing and changing to best suit the students. Some of the ch...