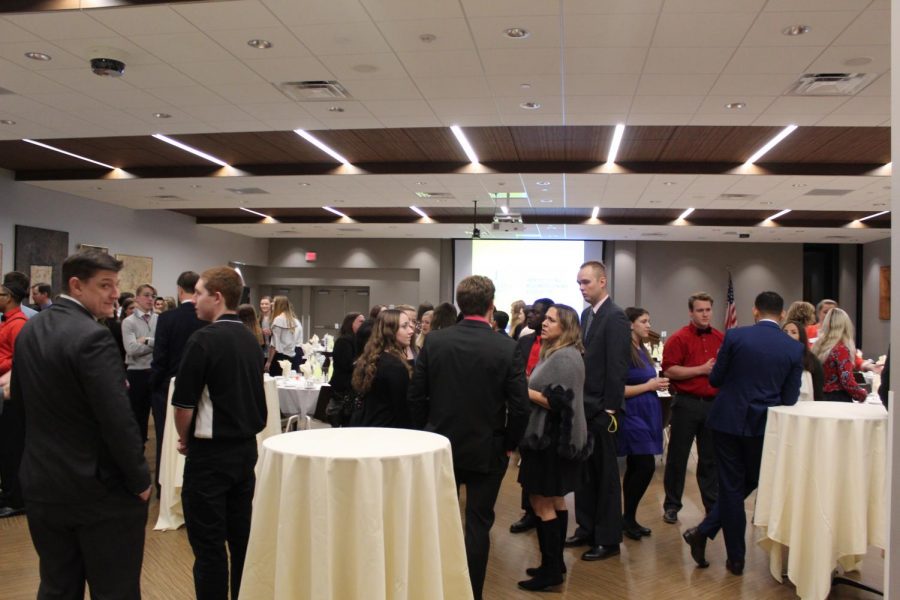 On Nov 20th, Lakeland hosted an Etiquette Dinner for students that are enrolled in the "Professional Protocol" course, and Lakeland's alumni were invited back to campus to act as professionals for the dinner. These alumni were asked about their Lakeland experience as well as their careers. 
Elizabeth Koepsell, a dermatologist, uses not only her degree in Biology, but the skills that she has acquired over her time here at Lakeland during her day-to-day life. Koepsell said that basically, "Lakeland is home." She, along with fellow alumni, Jess Nickel, agreed that their takeaway from Lakeland wasn't only about their education, but it was also about the connections that they made. Both Koepsell and Nickel met their spouses during their time at Lakeland. Nickel graduated from Lakeland in 2012 with a degree in Exercise Science.  
Derek VandenPlas, another Lakeland alum and the Lakeland Pub and Grill Manager, attended the Etiquette Dinner and he worked at the makeshift bar during the event. Vandenplas has worked in dining services here at Lakeland since May 2012. He started off as a student worker, and in January of 2015, he started working full time. When he first came to Lakeland as a freshman, he said that he came in "undecided." VandenPlas graduated in 2015 with a degree in Sports Studies, and in 2017, VandenPlas graduated with his Computer Science degree. Vandenplas is currently working on receiving a degree in the accounting program, and is expected to graduate next year.  
Koepsell was the only alumni who was interviewed who actually works in a field that matches her degree, which isn't all that uncommon. According to a U.S. Bureau of Census survey, of those surveyed, they found that only 27.3% of U.S. graduates actually work in a job that matches their major. But just because there are high odds of graduates who don't work in a career that matches their education, doesn't mean it doesn't happen at all, as is the case with Koepsell. 
The Etiquette Dinner served as a test for students and how to portray themselves at a professional dinner. There will be even more events that Lakeland's alumni are invited too to talk about the topic of future career outlooks for certain majors offered here on campus on December 5th and 6th in the Bradley at 11:15 AM till 12 PM, and on the 7th in the Campus Event Center at the same time.