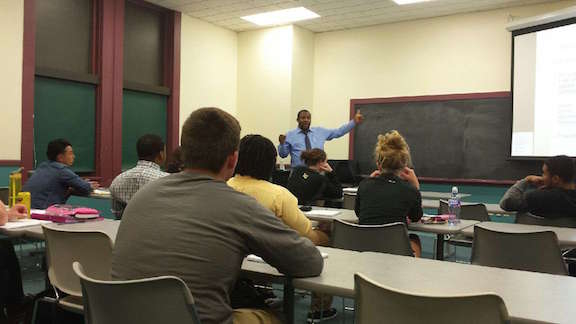 Meet Dr. Ngange L. Kingsley, or as his students call him, "Kings." From Cameroon, Kingsley has been teaching an International Communication class at Lakeland College this semester.
Graduating from University of Buea in Cameroon with a bachelor's degree in journalism and communication, he worked for that university as their public affairs officer for three years before traveling to Sweden to study for his masters degree at the University of Linkӧping.
After Sweden, Kingsley returned to Cameroon as a television/radio journalist for the state broadcasters. In 2012 Kingsley graduated with a Ph.D. in mass communications, officially making him the first Cameroonian to graduate with a Pd.D. in mass communications from a Cameroonian university.
Before making history, Kingsley spent six months at Southern University in Baton Rouge, Louisiana where he was introduced to Professor Don Francis of Lakeland College through their mutual acquaintances. From there, they started sharing professional and academic experiences which eventually brought Kingsley to Lakeland as an adjunct instructor.
When talking about the importance of international communication, Kingsley says, "You see, the world is becoming more and more a global village. So communication between and amongst nations is no longer an option, but a necessity. This will help us not only gain a better understanding of the world we live in, but also appreciate and tolerate different people and cultures found in the global village."
Kingsley found he quickly integrated into our community barely days after arriving earlier this year in August. He explained how Lakeland College feels like home to him in many ways; the size, community life and the hard-working nature of the students and faculty reminds him a lot of his home university in Cameroon.
"This is my second visit to the great state of Wisconsin after 2010, a state which has greatly shaped and molded my academic career through professors like Don Francis and the opportunity to teach at Lakeland," Kingsley said.
After this semester, Kingsley will return back to Cameroon to continue with his teaching, research and outreach missions associated with his university. Moving forward, he hopes to continue to strengthen the healthy relationships existing between him, students and faculty here at Lakeland College.
Photos Courtesy of Dr. Ngange L. Kingsley