The NonTraditional Life: Fashion advice from a fish
I'm interning for Professor Karl Elder in the writing department, doing some of the legwork for the Great Lakes Writer's Festival in November. One of my jobs is to order the T-shirts that will be sold during the event. I asked Karl about ordering them with pockets this year and his response was that the traditional students "wouldn't stand for it."
Wouldn't stand for it?
It's not like I'm asking for both pockets AND pocket protectors. My request isn't unreasonable. I'm even willing to accept colors other than gray.
Now, I happen to know that Karl is younger than me, and I take statements from "kids" like him with a grain of salt. I also realize, however, that he has enough experience with Lakeland's students to possibly be right—only possibly. So I'm accepting his judgment with mere token resistance. I'll get a shirt with a pocket, even if I have to sew it on myself.
What really bothers me is that he's expecting me to cave in to the whims of a bunch of youngsters who go around calling themselves "Muskies."
Really? A fish? I think you all need guidance.
Think about it: if you're going to label yourselves with a moniker that reflects the personality of your school, and your school is known as "the college in the cornfield," well, I think the solution is self-explanatory.
"The Children of the Corn!"
Imagine the psychological effect on visiting football teams when a bunch of Amish zombies carrying machetes enter the stands from the rows of cornstalks just beyond Taylor Field's north goalpost.
(Note to self: Don't offend members of traditional religious groups… and try to be sensitive towards zombies, too.)
Think of what the players themselves could do with the black eye grease they wear to cut down on glare. They, too, would be equipped with machetes. Opposing players would find it difficult to watch the plays while keeping an eye on the fans at the same time. Soon, they'd realize how serious things had become, and they might just throw up their hands and leave. Lakeland could conceivably go to the top of the NAC without needing to play much football.
The Alverno Inferno, though, might take things just as seriously. If they did, then it could get hot in the old cornfield. And the 300 visiting fans of the Aurora Spartans? Well, that would just be silliness.
I guess we need to consider tennis, too, where the opposing players are themselves armed. Wrestling? Suffice it to say that Nebraska, in the Big Ten, already has claimed the name "Cornhuskers." And soccer? A little too quick and maneuverable for zombies to deal with. How about basketball? Lean beans against corn. Veggies-versus-veggies. Conflict of interest. Groan.
You know, the more I consider this, the more I'm beginning to realize a couple of things:
Tees don't really need pockets… and it's not that bad being a fish.

Hang on for a minute...we're trying to find some more stories you might like.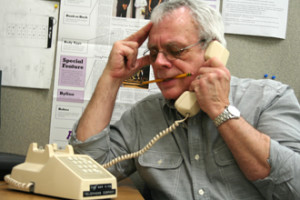 Al Fairchild, Staff Reporter
Al is a senior writing major with a business minor.  This is his third semester with The Mirror, where his primary function has been that of a staff...