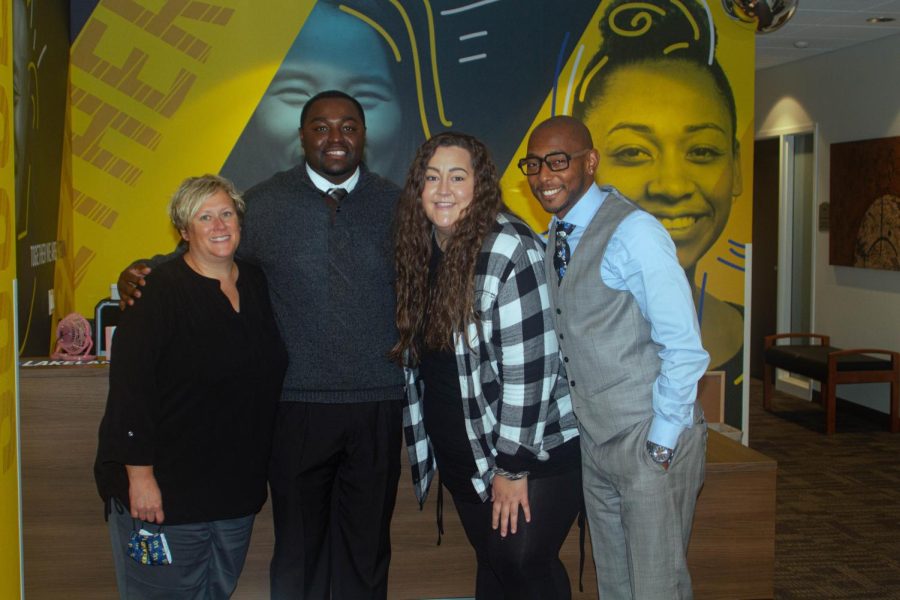 David Aragon
At the heart of Lakeland University's campus, students can find a driving force known as the Success Office! Located in the Campus Center, the Success Office provides traditional students with many resources needed to be successful while at Lakeland. Students who visit the Success Office can also find information about Lakeland's many clubs and activities, or simply relax and eat freshly popped popcorn. At the Success Office, every member of the team supports the same goal—helping our muskies to find their lake to swim in.
Within the Success Office, students interact with many well-known faces around campus. Alumni Corey Roberson returned to Lakeland this fall as the Director of Leadership and Engagement. In this role, Corey aids student clubs and activities. With his return, Corey brings his immense passion for helping students succeed at Lakeland and his desire to give back to the community he was built in. In his role, he hopes to be a face for students of color to relate to and show them it is possible to get It done.
Another definitive force in Lakeland's Success Office is Le'Shay Guy, who also graduated from Lakeland. As the Director of Student Diversity, Equity, and Belonging, Le'Shay works toward developing inclusive practices and diverse experiences for our Muskie community. According to Le'Shay, her work at Lakeland gives her a reason to get up every day, and she strives to be a strong role model for women and students of color. With many innovative ideas to improve the lives of each Muskie, Le'Shay looks forward to bringing new opportunities for students to engage and support one another.
When speaking about Lakeland's Success Office, one name truly stands out—LaJill Edge. As the Director of Student Activities and Engagement, LaJill helps all Muskies when they are in need. When speaking on her work in the Success Office, LaJill explained how seeing smiles on students' faces makes her day. Additionally, the work done by Mark Edmond, Director for Residence Life, and David Simon, Vice President for Campus Life, is also truly inspirational. After dedicating so much time to Lakeland University as students, Mark and David also enjoy giving back to their Muskie community. For both, watching students become excellent leaders during their time at Lakeland gives them hope and makes them work even harder.
Perfectly placed at the heart of campus, the Success Office represents a collaboration of many offices here at Lakeland. Together, they bring abundant passion and love for the student body. By visiting the Success Office and entrusting in this team, Muskies will always find their lake to swim in. Visit today!