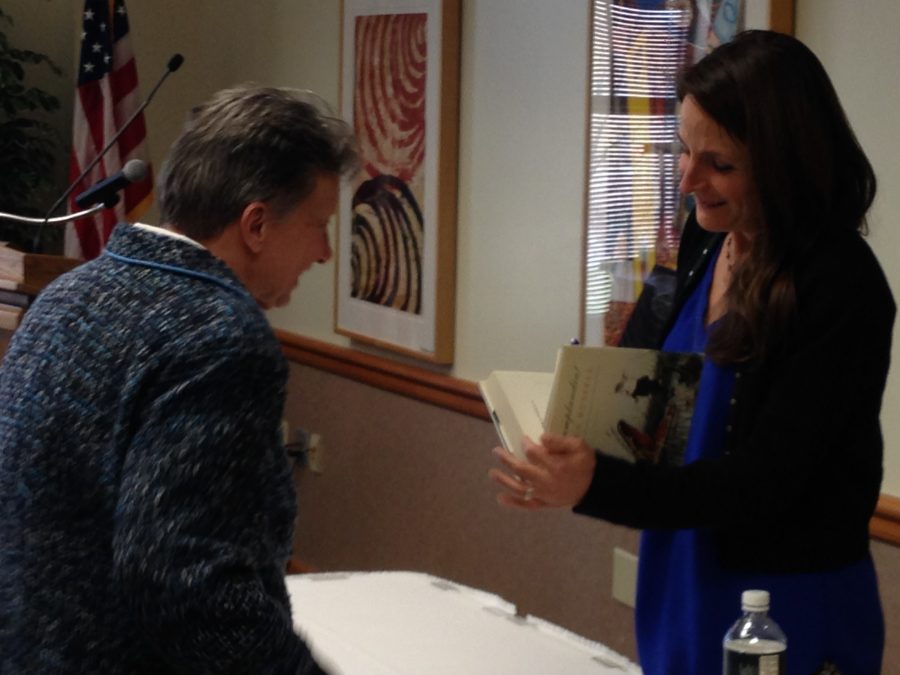 Lakeland's third annual Community Book Read event took place on April 12, with "Swamplandia!" author Karen Russell visiting to discuss her Pulitzer-finalist novel from 2011 about an alligator-wrestling family in the Everglades.
A Q&A with Russell took place at 11 a.m. in a packed Laun 209. She opened by reading an excerpt from "Vampires in the Lemon Grove," a short story about vampires who feed on lemons rather than blood, before opening up to questions from the audience.
"Swamplandia!" is known for its oddball cast. Asked how she develops her characters, Russell noted that she begins her stories with a setting and grows her characters from that setting. "Swamplandia!" takes place in Russell's home state of Florida.
"I don't know if you guys have been to Florida, but it's kind of like the magical realist state," Russell said of the setting. "It's like, the Publix is right next to the parrot jungle, there's just storms that are lifting the lid off of the tarantula place and raining pestilence down upon—like, there's always wacky stuff going on."
Russell garnered laughs by detailing the first draft of "Swamplandia!," revealing that it was not separated into chapters. "My editor, who was truly horrified but a gentlewoman, was like, 'Karen, I want to suggest something to you. It's an organizational strategy that has worked for many other authors: The chapter,'" Russell recounted.
Russell cited short fiction writer George Saunders as an author she likes to read, along with her brother Kent Russell, a nonfiction writer.
Asked about a potential "Swamplandia!" sequel, Russell said she would be happy to leave that book's universe alone for a while. "If I'm really behind on mortgage payments or something, ask me again," she joked.
After the Q&A, Russell signed books and spoke with spectators.
The main event took place at 7:30 p.m. in the Bradley Theatre as a convocation. Russell was introduced by Lakeland's Assistant Professor of Music and Director of Choral Activities Daniel David Black, who met her when both were students at Northwestern University.
Russell was interviewed onstage by Assistant Professor of Composition Jodie Liedke, answered further audience questions and read excerpts from both "Swamplandia!" and her short story "Reeling for the Empire," which follows a supernatural scheme in Japan for mass silk production.
Asked how she celebrated "Swamplandia!" being a finalist for the 2012 Pulitzer Prize for Fiction, Russell detailed her following day. "I think I just went to a weird buffet dinner," she said. "Maybe I had a beer."
About genre, Russell defined "Swamplandia!" as "magical thinking realism." "People always say 'Oh, you're a fantasy writer,' and I sort of agree, but I think really what's interesting to me are the fantasies or stories people tell to survive certain events," Russell said.
Earlier in her life, Russell didn't believe that becoming an author was an actual option for her future, so instead thought about becoming a journalist or something else involving stories. "I was like, 'Who will pay me to sit there and read books?'" Russell said.
About her writing process, Russell noted that she used to be a "binge writer," at times writing all day and night, but that strategy became less viable as time went on. She now limits herself to five hours in the morning.
Asked what kind of magical creatures she would have inhabiting Lakeland in a novel, Russell proposed the idea of "Midwestern lake monsters," including a "Lake Michigan Merman," contemplating what could be scarier. "Some naked guy shows up on the beach with a tail? No one's into that," she joked.
After the interview, Black returned to the stage to announce that the subject of 2017's Community Book Read would be author Lauren Groff and her 2015 novel "Fates and Furies."