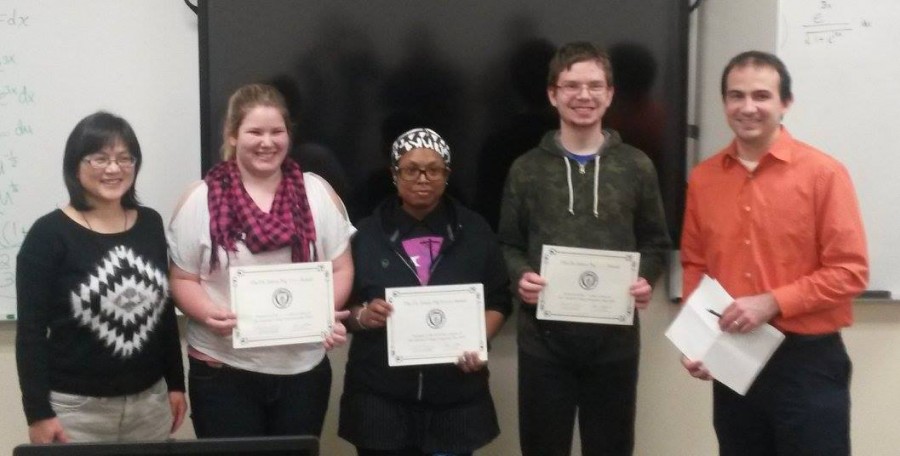 On Tuesday, March 16, students competed head-to-head in Chase for the 2016 Integration Bee.  The contest, hosted by the Math Club, originated in 2009 and has been held every year since.
Cristi Chang, associate professor of mathematics, organized and moderated the event while John Wallbaum, assistant professor of mathematics, served as the official scorer. Senior math and computer science major, Michele Marquardt served as the events time keeper.
The competition began after Chang announced the rules of the event.
Ten students in total competed in this year's competition. Armed with only a marker and an eraser, the contestants were tasked with answering a variety of intimidating integral problems.
The white board was divided into four sections, successfully entrapping each participant in their stalls.  Silence enveloped the room as participants visually and physically plotted and worked out their problems on the board. Some students could be seen second guessing themselves by erasing answers seconds before the end of a round, some stood in awe at the problems posed and one participant even let out a loud "Ewww," in response to one of the problems.
One round during the competition was unusually short: "All four contestants got question number three right, ending the round early. I was impressed," Wallbaum said.
After five rounds of mental warfare, senior computer science major, Jonathan Weidensee earned first place, senior chemistry major, Audrey Nichols secured second place and senior computer science major, Madeline Pearson took third place.
"I was nervous at the beginning, but I became more confident toward the end," Weidensee said.
A donation of $200 was given to the Lakeland College Integration Bee by the Dr. Jolson Ng foundation. Of that money, the first place contestant received $100, second place received $60 and third place took home $40.
To learn more about this event or the Math Club, contact advisors Wallbaum and Chang or Math Club President, Megan Hartke.