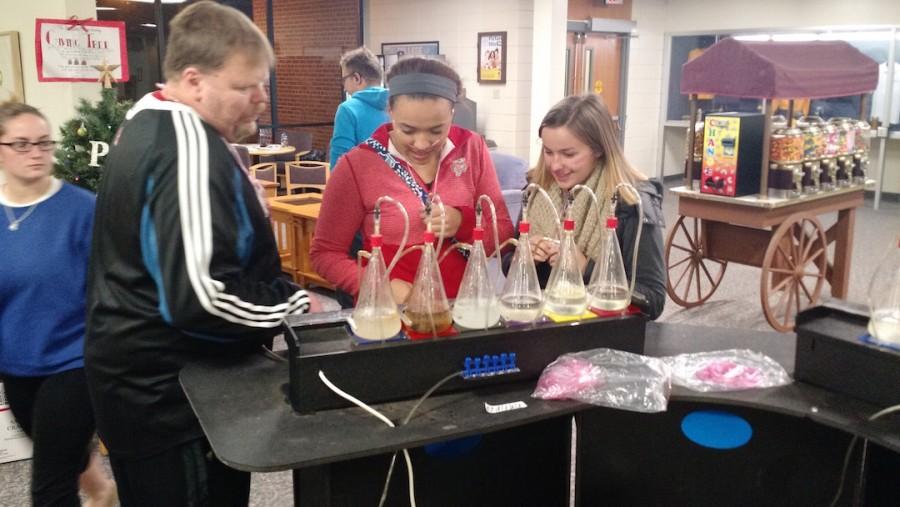 During the week of finals, Lakeland College held a few activities that aid in students' relaxation and wellness.
Monday, Dec. 7, Lakeland had free stress balls and smoothies (including flavors wildberry, green apple, cherry and peach).
Then, from 9 p.m. to 10 p.m., free breakfast was served. Some of the foods included were: bagels, eggs, curly fries, French toast sticks and hash browns.
Tuesday night's featured stress-relieving activities in the Campus Center included aqua massage beds, an oxygen bar and a station for leg massages.
Residence Life was the host for the Wednesday, Dec. 9, activities.
Students could purchase six, 12 or 18 boneless or bone-in wings from Legend Larry's by using cash, credit, a meal swipe or Muskie money. The flavors included mild, medium, honey BBQ and teriyaki.
There was also a wing eating contest, where each contestant would have to eat 10 bone-in wings with DOA (dead on arrival) sauce. Quita Warfield, sophomore hospitality management major, won this contest and took home a $25 Applebee's gift card.
The second competition of the night was an ugly sweater contest. Janel Weir, junior Spanish and hospitality management major, won this contest with a very festive sweater sporting Santa skiing and falling off said skis. Weir received a $25 gift card for Kohl's as her prize.
Happy studying!