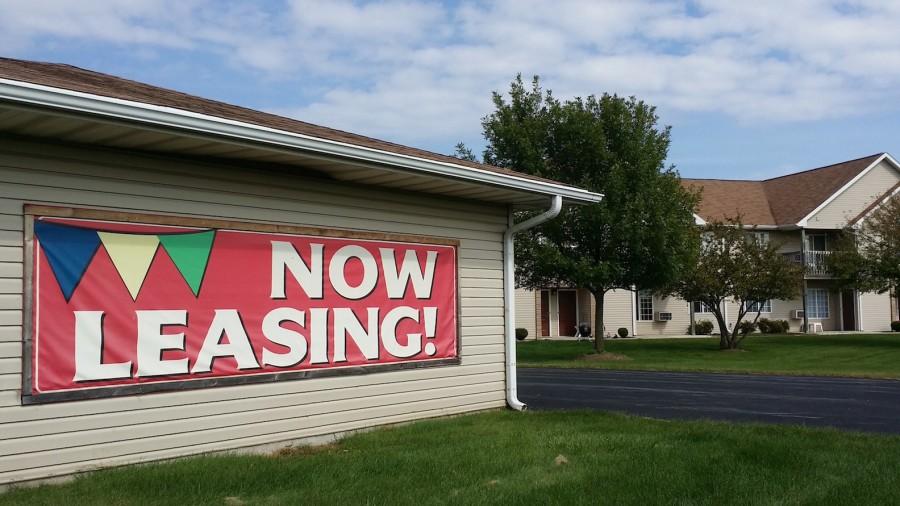 Peter Ludolph
There is a cliché saying that most college students are poor. While the saying may be cliché, it is true for many students and in an effort to reduce costs many students will move off campus. It should be known that this act alone will not guarantee a reduction in expenses. According to Jim Bajczyk, Director of Residence Life at Lakeland College, "Many students do not factor in the additional costs of living off campus." Some of these may include heat/AC, internet, gasoline, utilities and household item costs which can add up over time. Living on campus is not for everybody, Bajczyk said, "it's really up to the individual what his or her preferences are and what he or she can afford."
According to Bajczyk, 73.5% of students live on campus
If a student wants to live off campus in Sheboygan County they can expect to pay a rent between $450 and $600 for a studio or single bedroom apartment that has heat included. With significant factors such as food, gasoline, utilities and internet a student can expect to add an additional expenditures of approximately $525 per month. Bringing the total base cost of living off campus for a month to be between $975 and $1125.
In comparison, if you are looking for the most economical option on campus you would find yourself in the Suites. The monthly cost for a double room with board in the Suites is $916.25. Unlike an apartment off campus, you would be sharing the room with another person and also sharing a bathroom. So maybe a more fair comparison would be a Grosshuesch, Muehlmeier or Krueger single where a student can get their own room for the least amount of cost. The monthly cost of a single room with board in one of these dormitories is $1050. Costs of the most expensive living options on campus can result in room and board charges of over $11,000 per year. (Brotz single with 150 meal plan)
The housing costs on campus have increased over the last several years in conjunction with other rising costs such as tuition and the overall economy. The overall cost of housing is determined by the college's finance department.
According to Bajczyk, increases in resident costs are in no way related to the Hill Apartment fire and much of the profit from housing goes toward debts and overhead costs on buildings.
There are incentives for students to both live on and off the campus. Living on campus affords you the ability to be closer to friends and social settings. You never have to cook with food service available and there is better access to academic aid such as the library, tutors and computers. However, off campus life also has its advantages. Tim Fruit, Senior, Chemistry Major lives off campus. He said "I prefer living off campus for the sense of independence and separation from the commotion often found on-campus, especially in the late evening study hours. I admit, the only dorms I have lived in were military ones before coming here, but from what I've seen, things at Lakeland are not much different."
Before a student moves off campus Bajczyk urges those who are thinking about making the transition to "go to financial aid and see what the cost will be on campus versus off campus. Students will find that more aid will be awarded to them if they live on campus at Lakeland." For all the information regarding cost of living on campus go to http://lakeland.edu/Financial-Aid/tuition-and-costs.