Slam poetry team Dynamic Duo performs
On Oct. 29, in the pub of Lakeland College, students were presented with a free performance from the group Dynamic Duo. The Dynamic Duo is a slam poetry team that consists of Ken Arkind and Panama Soweto.
Ken Arkind was born in Steamboats, Colorado and lived in Colorado for most of his life. Arkind states that he has always had a knack for writing, "It was something I was naturally good at; I just read. My family would read all of the time."
The first time Arkind knew he wanted to write for the rest of his life was in the eighth grade.
"I had a teacher, he was an English teacher, and I would never do his homework. I was a very angry kid for a lot of reasons. So, I would write poetry, song lyrics or raps, jokes, or whatever on the side of his assignments, but I wouldn't actually finish his assignment," Arkind said. "So, one time I got in trouble for lighting a match in his class, and he was going to charge me with arson…. soon I realized that every little piece of paper I owned had poetry on it, and then I realized that I wanted to write."
Panama Soweto, the second half of Dynamic Duo, was born and raised in Manhattan, New York, and moved to Aurora Colorado in the late eighties, early nineties. When asked what got him hooked on writing, Soweto surprisingly revealed it wasn't his first profession.
"I got my first degree in fine arts actually, but my grandparents, who helped raise me, gave me a strong sense of literary knowledge," Soweto said.
"I started sitting in the library reading poems from the likes of Langston Hughes and a lot of other famous African American poets, and also listening to hip hop, my first album being an LL Cool J album by the name of Walking like a Panther—and from there it just kind of jumped into slam poetry."
Arkind and Soweto met in the unexpected and amusing way of an argument.
"We met arguing over a 1988 authentic version of the cyberpunk classic, Akira," said Soweto. "We both were expected to get it, and when the time came to collect it from our friend we both started arguing, saying 'What do you know about Anime!? What do you know about comic books!?', and we've joined at the hip since then."
They are known across America, doing shows from the smallest of corners to the biggest of stages. They have even been in documentaries, one named "SPIT!" and the other called "Slam Planet".
These two are known as "crime fighting's favorite pair" for their love of comic books and superheroes, something one can clearly tell from the types of poetry that they performed at the pub. Exercising high energy, like little kids with the freedom to do anything they want, they shared their energy with the crowd. Their live performances consisted of dual voice work, comedy, and emotionally filled poetry.
They enjoyed the crowd and loved how they reacted and spoke to them during their performances.
The topics ranged from love to video games to the shootings in Colorado (in a very emotional piece) to grandmothers, as well as the occasional political joke. They had no fear as they performed and interacted with the audience, showcasing their professionalism. It was as if the crowd was an extended family, and they made it very comfortable to be there, and touched one, if not more, hearts with their stories of how the poems came to be.
The Dynamic Duo was indeed dynamic. They inspired writers to write and nerds to not be afraid of being noticed in the world.

Hang on for a minute...we're trying to find some more stories you might like.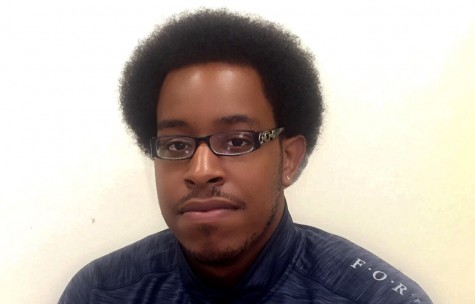 Benjamin Wilks, Sports Editor
Ben is a senior from Milwaukee, Wisconsin, majoring in writing. Ben has a passion for both photography and writing. He has won high awards at the ACP Best...