Aviation minor program finishes its first year
I recognize Joe McGeorge as he hands out brochures to high-school students and their parents just before they enter the main exhibit area of Sheboygan's Blue Harbor Resort. It's Saturday, April 14, and the students are attending the city's first Science and Engineering Festival.
McGeorge, Lakeland College's first-ever aviation instructor, is manning the school's informational booth, providing prospective students with details about the college's programs. He is stressing its majors in the natural sciences, as well as the new aviation minor he has overseen for the last two semesters.
"Looks like a break in the action," he says to me as the group disappears through the exhibition hall's double doors. "We have some time to talk about the aviation program."
McGeorge, who came to Lakeland in 2011 from the University of Illinois' Institute of Aviation to help set up and operate the aviation minor, now has a full year of classes under his belt and is pleased with its progress. "We have two students who should take their check rides [for private-pilot licenses] in May, and two more who will likely get theirs' during the fall," he says. "Things are going well. The students are doing great. About the only thing that has held us back has been the weather."
He pauses to speak with a woman and her daughter who have stopped at the booth. He talks with them for a couple of minutes before handing them some literature, and then resumes discussing the program.
"While the weather's been unusually warm, it's not been so good for flying," McGeorge says. "The conditions have delayed our cross-country solo flights, which should have happened during March. While it's been nice to go outside, low ceilings and windy conditions haven't allowed those kinds of flights."
Suddenly, the front door blows open as if on cue, and a number of brochures fly onto the floor. As he picks them up, McGeorge continues talking about the program.
"There've been many opportunities for the students to continue their local flying," he says. He adds that he's come to appreciate the opportunities for conducting local operations that are provided by this area and its airport. "You know, I'd say that we have a lot of resources available here." He restates the last part for emphasis. "We definitely have everything we need to make this a great program."
I ask McGeorge how he would compare the Lakeland program to the one he left at Illinois. He replies that the programs are very different in some ways, especially in the number of students. The type of airspace that they worked in at Champaign was different, too. "There's definitely a different makeup to it. They needed to deal with Class 'C'—tower controlled—airspace."
He says that he likes the airspace around Sheboygan County for teaching. "I actually prefer this type of area because we don't waste time getting into our maneuvers. When you're at an airport like Champaign, it's ten miles before you can do any real work. You basically waste 40 minutes each flight just to get out to where you can do anything. That's a great situation for us here—this is just a really great airport. When we do want to work in tower-controlled airspace," he adds, "we just head over to Oshkosh. It's not that much of a problem."
I ask him if there will be any new classes added to the program now that the inaugural class is moving into its second year. "Nope," he says, "that will come next year, as the students move into more advanced courses." Those courses, according to McGeorge, were planned in advance, and will include instruction enabling students to pick up their instrument and multi-engine ratings, and to obtain their commercial licenses.
One of the big objectives of the program, he says, has to do with its status as an organization more than any changes to the curriculum. "We should have our FAR [Federal Air Regulations] Part 141 certification by next year, which will give us special recognition from the FAA as a flight school."

Hang on for a minute...we're trying to find some more stories you might like.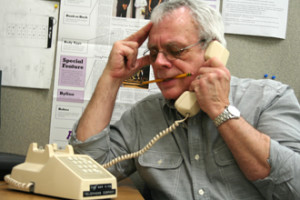 Al Fairchild, Staff Reporter
Al is a senior writing major with a business minor.  This is his third semester with The Mirror, where his primary function has been that of a staff...