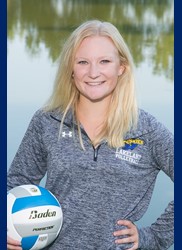 Le'Shay Jones, Staff Reporter
April 3, 2016
Filed under Sports, Womens Volleyball
Name: Emma Bruder Year: Freshman Major/Minor: Sports management and leadership/athletic coaching Hometown: Frankfort, Ill. Sport: Volleyball If you could choose any career outside of your field what would it be: "I'd pick being a preschool teacher." What do you want to accomplish most...